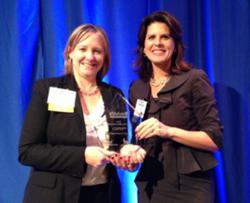 Albany, N.Y. (PRWEB) November 13, 2012
CDPHP® has been recognized by the National Business Coalition on Health (NBCH) with an eValue8 Innovation Award for its Enhanced Primary Care (EPC) initiative at the organization's annual conference in Washington, D.C.
CDPHP's director of clinical transformation, Lisa Sasko, MA, MBA, accepted the award on CDPHP's behalf. The award, one of only two given out, recognizes the innovative work of health plans to develop programs that address critical health care issues. Sasko also gave a presentation on EPC at the conference.
In 2008, CDPHP launched EPC with the goal of increasing the value and quality of health care, while addressing the shortage of primary care physicians. The program abandoned the "fee-for-service" model, which has historically reduced the amount of time doctors are able to spend with patients.
Instead, EPC rewards doctors for spending more time with patients with the greatest needs.
Phase 4 of EPC launched at the beginning of August 2012. The program now includes more than 160 local practices, encompassing 181,012 CDPHP members and 723 clinicians.
CDPHP has garnered national attention for this unique model of care. The Centers for Medicare and Medicaid Services (CMS) recently selected New York's Capital Region and the Hudson Valley to test payment models to improve the quality and efficiency of health care.
In addition, Bruce D. Nash, MD, MBA, senior vice president and chief medical officer at CDPHP has been called to Capitol Hill twice this year to testify about payment reform.
About CDPHP®
Established in 1984, CDPHP is a physician-founded, member-focused and community-based not-for-profit health plan that offers high-quality affordable health insurance plans to members in 24 counties throughout New York. CDPHP is also on Facebook, Twitter, and LinkedIn.
About eValue8
eValue8 was created by business coalitions and employers like Marriott and General Motors to measure and evaluate health plan performance. eValue8 asks health plans probing questions about how they manage critical processes that control costs, reduce and eliminate waste, ensure patient safety, close gaps in care and improve health and health care.
About the National Business Coalition on Health
NBCH is a national, non-profit, membership organization of purchaser-led business and health coalitions, representing over 7,000 employers and 25 million employees and their dependents across the United States.