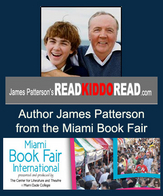 I am on a mission to make all children life-long readers.
Tampa, FL (PRWEB) November 14, 2012
Local Tampa entrepreneur, Chicke Fitzgerald, will be interviewing the "king of publishing" on the Uncommon Giving radio show. The show will air live from the Miami Book Fair International where he will talk about his passion for literacy and for families reading together. The interview is scheduled on Sunday, November 17th at 9:30 am.
From his James Patterson Pageturner Awards to his website ReadKiddoRead.com to his regular donations of thousands of books to troops overseas, Patterson is a lifelong champion of books and reading.
He started writing books for kids and in 2008 launched his youth-focused website, when he noticed that his son, Jack, was lukewarm toward books. Patterson is now on a mission to make all children life-long readers. The Read Kiddo Read site is dedicated to helping parents find books that will get their kids reading.
With an estimated 260 million copies of his books sold worldwide and 19 consecutive No. 1 New York Times bestselling novels, Patterson is the first author to have new titles simultaneously at #1 on The New York Times adult and children's bestsellers lists and is the only author to have five new hardcover novels debut at No. 1 on the list in one year — a record-breaking feat he's accomplished every year since 2005.
James Patterson's book, "Middle School: The Worst Years of My Life" is a No. 1 New York Times and No. 1 Indiebound best-seller. He is also the author of the award-winning "Maximum Ride," "Daniel X," and "Witch & Wizard" young adult series, and is the 2010 Children's Choice Book Awards author of the year.
The 29th edition of the nation's finest and largest literary gathering, Miami Book Fair International, presented by the Center at Miami Dade College (MDC), will take place at the college's Wolfson Campus in downtown Miami. The Fair will open Sunday November 11th with the popular Evenings With… series, featuring six nights of readings and discussions with noted authors from the United States and around the world.
The first Miami Book Fair International, founded by Miami Dade College and community partners, took place in 1984. Since then it has been recognized as the nation's finest literary festival. In 2001, the Fair became part of The Center for Literature and Theatre @ Miami Dade College, a cultural and academic initiative that promotes the advancement and appreciation of literature throughout the year.
James Patterson on Reading: A Whole Family Event is scheduled at The Miami Book Fair for Sunday, Nov. 18, 12:00 p.m., Chapman Conference Center (Building 3, 2nd Floor, Room 3210)
Rock The World Network recently launched the Uncommon Giving radio show to showcase real life heroes and leaders of charities, foundations and corporations who are rocking our world and creating a legacy. Fitzgerald is the founder of Rock the World Enterprises and CEO of strategic consulting firm, Solutionz Holdings.
For those unable to listen to the show live, the audio will be available for download at http://my.blogtalkradio.com/uncommongiving and listeners may also subscribe to the Uncommon Giving iTunes channel.