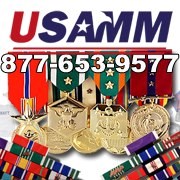 It's an interactive experience for the consumer, which there can never be too much of.
Milwaukie, Ore. (PRWEB) November 14, 2012
Local military uniform superstore, USA Military Medals, is now available on Google+, providing active and veteran military further venue to access their military uniform items and awards, while supplying UMM an increase in ability to showcase their establishment to prospective customers.
By joining the ranks of Google+, UMM can organize customers into groups to target for individual sharing, as well as control the content for a specific user through updates, videos and photos.
UMM also benefits by having their Google search listings enhanced. When a person does a search for UMM in any of Google's search services, Google+ optimizes the local listing for the high value keywords that consumers are searching most on Google.
Customers searching for UMM content within Google+ will receive from Google a return of relevant people and posts as well as popular material related to UMM.
Google+ also offers live chat so Google users can chat live with the UMM + page.
"It's an interactive experience for the consumer, which there can never be too much of," said USAMM, LLC, President of Web Operations, Nathan Zabaldo. USAMM owns and operates USA Military Medals along with various other military uniform e-commerce stores.
"By joining Google Plus, we now have complete Google Plus listing optimization, which generates high quality leads for our business," said Zabaldo.
Incorporating directly into everything Google business, Google+ embeds UMM on a business website as well as in social media, offering complete Google Plus local listing optimization to generate high quality leads.
"The more robust features of Google Plus give us a huge opportunity to get visibility on page one of Google," said Zabaldo.
The UMM Google+ page can be found at https://plus.google.com/u/0/b/117560483712579606450/117560483712579606450/posts.
USA Military Medals is an internet-based company formed in 2005, carrying more than 120,000 dress uniform products in stock and specializing in custom military medal and military ribbon rack production made easy with the state-of-the-art rack builder. USA Military Medals also operates a brick and mortar store servicing local military personnel and veterans.