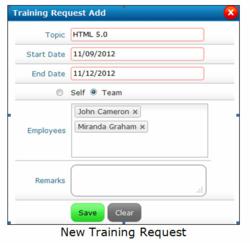 "By using these new features, an enterprise can manage, train and test its workforce to meet the ever changing requirements of its business." - said N.D. Reddy, founder and CEO of SutiSoft, Inc.
Los Altos, Ca (PRWEB) November 14, 2012
SutiSoft Inc., a trusted provider of Software as a Service (SaaS) solutions, today announced the release of SutiHVM 4.1, its web-based talent management solution to help manage training throughout the enterprise.
The new release includes features such as online tests, test assessments, makeup sessions and more to help streamline and collaborate centralized training management data.
New Features Include
Training Request (Team Members)
Reporting and project managers can submit training requests on behalf of team members.
Training Confirmation
Employees can confirm training sessions scheduled.
Online Test
Assess training feedback by conducting online tests for attendees of training. Questions in the online test can be customized according to the training topic.
Test Assessment
Test results are automatically generated if correct answers are provided while creating the questionnaire.
Training Feedback (External Providers)
Login accounts for external training providers to submit feedback on training sessions conducted by them.
Training Feedback (Reporting Managers)
Feedback on trainings attended by employees can also be collected from their reporting managers.
Makeup Sessions
Makeup Sessions for employees who have not attended scheduled trainings can be assigned to one of the makeup sessions or scheduling a new session.
SutiHVM is available in multiple versions: Small Business, Professional and Enterprise. Visit http://www.sutihvm.com for more pricing and more information.
About SutiSoft Inc:
Sutisoft is a leading provider of an integrated suite of web-based business solutions that manage tasks such as human resources, payroll, employee travel and expense management, ERP, CRM, document management and various electronic signature solutions. The company also delivers a suite of security products such as fingerprint authentication, dynamic touch screen signature, Bio-Attendance, Keystroke Encryption/Decryption, Single Sign-On and other products. These easy-to-use web-based solutions help small, medium (SMB) and large enterprises control costs, save time and secure their business processes.
The company's products are developed using Java, Flex, HTML 5, AJAX, C, C++ and other cutting-edge technologies which allow SutiSoft to retain its core values which are Simple, Scalable, Secured, and Seamless. Headquartered in Los Altos, California USA, SutiSoft has offices in Northern California, India, Germany and Japan. Additional information is available at http://www.sutisoft.com.