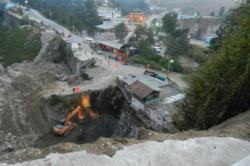 We have seen many cases of multiple families sleeping under one tarp – this is all they have.
Sarasota, FL (PRWEB) November 13, 2012
A ShelterBox Response Team (SRT) is in Guatemala assessing the need for emergency shelter and other aid after the San Marcos region was hit by two devastating earthquakes in one week.
International disaster relief organization, ShelterBox, provides humanitarian relief by delivering boxes of aid to help families made homeless by disasters such as earthquake, flood, hurricane, tsunami, cyclone, volcano or conflict.
On Nov. 7, a 7.2-magnitude earthquake hit the mountainous region near the Mexican border, damaging infrastructure, cutting power and making hundreds of families homeless. It was the most powerful tremor the Central American country had felt in nearly 40 years.
SRT members, Jen Kormendy and Dan Huisman, were assessing the need for aid when a second, 6.1-magnitude quake struck the same area on Nov. 12. While there were no immediate reports of major damage, a sense of panic had overtaken the impacted communities.
"They are frightened when the tremors come, as they were felt yesterday several times throughout the day and into the night. They all ran out into the streets for safety," Kormendy said.
"There is a definite need [for aid] as many homes are either completely destroyed or uninhabitable due to safety concerns. We have seen many cases of multiple families sleeping under one tarp – this is all they have."
The SRT is working with local Rotarians and Mayan families and will be initially distributing tents using prepositioned stock in country.
ShelterBox is also responding in the US and Caribbean in the aftermath of Hurricane Sandy, the Syrian refugee crisis in Iraq, extensive flooding and ongoing conflict in the Sahel region of West Africa, and flooding in Nigeria and Senegal.
ABOUT SHELTERBOX USA
Since 2000, ShelterBox has provided shelter, warmth and dignity following more than 180 disasters in over 80 countries. ShelterBox instantly responds to earthquake, volcano, flood, hurricane, cyclone, tsunami or conflict by delivering boxes of aid. Each iconic green ShelterBox contains a disaster relief tent for an extended family, stove, blankets and water filtration system, among other tools for survival. ShelterBox's American affiliate, ShelterBox USA is headquartered in Sarasota, Florida. Individual tax-deductible donations to ShelterBox USA can be made at http://www.shelterboxusa.org, 941-907-6036 or via text message by sending SHELTER to 20222 for a one-time $10 donation.