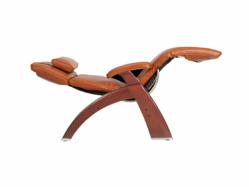 We are celebrating Small Business Saturday with the introduction of the new Human Touch Zero-Gravity Series 2 recliner and our showroom's facelift with up to 50-percent off on all of our floor models
Los Gatos, CA (PRWEB) November 14, 2012
We've Got Your Back, a retail showroom in Los Gatos for ergonomic seating, accessories, and Zero-Gravity Recliners, is celebrating Small Business Saturday on Nov. 24 with special discounts.
"Shop small this year and avoid the mall," Rita Marcojohn of We've Got Your Back said. "We are celebrating Small Business Saturday with the introduction of the new Human Touch Zero-Gravity Series 2 recliner and our showroom's facelift with up to 50-percent off on all of our floor models. This time there is a special opportunity to take home the Classic Human Touch Perfect chair in this floor model clearance sale. It is the best deal of the season."
The back store on Royce Street welcomes customers to brighter surroundings, with its new paint, trim and signs. Shoppers will have a great time exploring the store's line of comfort solutions for the office, the home and the gym. It has monitor arms, keyboard trays, keyboard and mouse solutions, office chairs, massagers and massage chairs, zero gravity recliners, fitness products, and accessories.
"The business is designed to support healthy lifestyles with best-in-class ergonomic products and services; health, fitness and rehabilitation products; and comfort solutions for the office and home," Marcojohn said.
Furthermore, the company provides ergonomic consultations and assessments. Through a network of qualified professionals, We've Got Your Back offers wellness education, as well as regular events and programs to promote health.
In this regard, the showroom will be closed from 11 a.m. to 2 p.m. on Nov. 14 to give way to the BAER Meeting.
"This private meeting is a forum for information exchange for ergonomists and physical therapy practitioners," Marcojohn said. "This month's meeting features PT Barbara Merrill and Orthopeadic Surgeon, Dr. Rives Chalmers."
For more information about any of We've Got Your Back's products or services, call 408-395-1122, view the Los Gatos tension relief store on the Web at http://www.back2active-bayarea.com or visit 114 Royce St. in Los Gatos
About We've Got Your Back
We've Got Your Back is a women-owned business that delivers the best-in-class products and services in ergonomic accessories and seating, fitness gear and comfort solutions. Its goal is to provide education, information and products that ultimately eliminate the root cause of back pain and neck pain. The showroom in Los Gatos was designed to serve the community with educational programs, fitness training and product demonstrations.
We've Got Your Back offers its products and solutions to support the home office, telecommuter or the office workstation with training, chair fittings, ergonomic assessments and lifestyle support programs. Products include ergonomic seating, zero gravity chairs, neck pillows, massage chairs, sit-to-stand desks, doctor-recommended pillows and more.