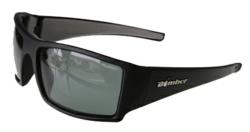 I needed polarized sunglasses that float, as it turns out ReefGear knew exactly what I wanted.- Ralph Jefferson
Lewisville, TX (PRWEB) November 14, 2012
Introducing the best sunglasses by Bomber, Floating Eyewear, ReefGear.com continues to add the products it's customer have been clamoring for. Reef Gear's policy of consumer outreach and involvement has delivered again, this time in the Eyewear category. Not only is Reef Gear introducing men's sunglasses and women's sunglasses, but ReefGear.com is introducing floating polarized sunglasses.
As ReefGear opened up the eyewear category and introduced ElectricVisual Sunglasses online as it's first category brand, customer's engaged ReefGear about their needs. Customers at Reef Gear asked for more function given their active outdoor-lifestyle, specifically they need the ability and the confidence to take their eyewear not just on the water but in the water.
The idea of floating sunglasses has been around since the inception of sunglasses. One of the inherent problems was wood is heavy, and solid plastic or metallic does not float. Bomber Eyewear delivered a new method, this time using NASA inspired high density foam to not only give lift in water but to create added comfort and security. With the non-slick foam along with inside of the frame came one serendipitous feature, the eyewear would no longer wiggle or fall off of the wear's face.
Keeping with tradition, ReefGear give's all credit to this introduction to it's customers. Without an active group of customers and ReefGear fans, introductions like this are not possible. ReefGear is vary grateful to the continued support of it's customers
ABOUT REEF GEAR Reef Gear was established in 2007 on the notion that everyone needs time to enjoy family, friends, and life. The products found at reefgear.com are super reliable and set to make a big splash. Everything in the online store has been hand-picked, hand tested, and totally Reef Gear approved. That means no snagging, fading, or stretching. At ReefGear it's about cool, confident style meeting reliable and relaxing comfort, now get out in your ReefGear.