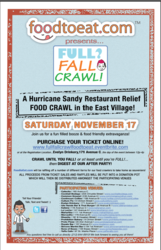 New York, NY (PRWEB) November 14, 2012
Foodtoeat.com had a vision to improve the NYC online food ordering scene. In an industry dominated by competitors charging large percentages from partner restaurants, FoodtoEat wanted to create a site that fostered growth in the industry and helped, not hurt, local restaurants.
Unlike its competitors, FoodtoEat offers vendors a low cost of entry, a flat 10 cent fee per order and a completely free catering service for its corporate clientele.
When Hurricane Sandy struck the East coast on October 29, NYC downtown bars and restaurants bared the brunt of it. Many were flooded and without power for days, forcing them to lose tens of thousands in inventory and business. FoodtoEat knew that a major effort would be needed to get the NYC restaurant scene back on its feet. With a community-oriented mindset, FoodtoEat got to work organizing a food crawl to stimulate the local economy and get customers in the doors of these bars & restaurants.
"The restaurant industry is the heart and soul of New York City. We knew that getting people out of their houses and into some of these bars and restaurants would be the first step towards New York City recovering from this disaster," said FoodtoEat's CEO Deepti Kumar.
Nineteen East Village bars & restaurants will be participating in the event including local hot spots such as Cocktail Bodega, Evelyn Drinkery, La Lucha, Mercadito, Prohibition Bakery, Simone Martini Bar, and Yaffa Café, among others. "Crawlers" are encouraged to buy tickets ahead of time, through the Event Brite page: http://fullfallcrawlfoodtoeat.eventbrite.com/ although tickets will be available on the day of the event at Evelyn Drinkery, the official registration station of the crawl.
All participating bars and restaurants will be offering crawlers deals at discounted rates ranging from tasting portions of popular menu items, to drink specials, to food and drink pairings. Crawlers should report to Evelyn Drinkery (171 Avenue C) at 12PM on Saturday November, 17 to receive their hand stamp, a map of participating bars & restaurants, and the deals each will offer. From there, they will be able to proceed in any order they'd like to all the stops. At 3PM all crawlers will gather at Kafana (116 Avenue C) for an ending party with entertainment and a raffle.
All proceeds from ticket and raffle sales will be pooled and distributed among participating vendors at the end of the event.