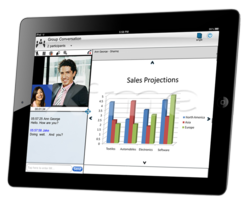 Damaka's mantra of 'pure software play' and 'no additional server infrastructure' for Mobile UCC solutions minimizes cost of ownership and deployment headaches for Enterprise IT
Richardson, TX (PRWEB) November 14, 2012
Damaka®, the technology pioneer in Mobile Unified Communications and Collaboration (UCC), announces the capability of joining Meetings and engaging in a unified collaborative experience using Xime™, a native mobile client for IBM® Sametime®. Xime delivers a powerful unified communications experience encompassing Presence, IM, Audio, Video, Conferencing, Application Sharing, Desktop Sharing, and Scheduled Meetings.
IBM Sametime is a popular communication and collaboration platform that is used in a variety of verticals. Enterprises can now take advantage of Damaka's Xime solution – the only native mobile client to deliver video and collaboration - while leveraging their existing IBM Sametime infrastructure. Deployment of Xime does not require any additional hardware or software. It will seamlessly connect with your Sametime infrastructure. Users can now experience the power of Sametime on their mobile devices using Xime.
"We are proud to deliver a product that has the potential to mobilize millions of enterprise users of IBM Sametime worldwide," said Sundaram Sethu, SVP Engineering at Damaka.
For Xime product demo video: http://xime.damaka.com/xime/
In contrast to traditional offerings that require additional server deployments, Damaka's mantra of 'pure software play' and 'no additional server infrastructure' for Mobile UCC solutions minimizes cost of ownership and deployment headaches for Enterprise IT. Damaka's software magic continues to define enterprise mobile video and mobile collaboration providing a rich mobile multimedia experience.
Xime is available in the Apple® App Store and Android™ Market. As part of its Enterprise Mobile Video and Mobile Collaboration strategy, Damaka continues to bring advanced communication and collaboration solutions that enable today's mobile workforce to be highly productive.
About damaka, Inc.
Damaka (http://www.damaka.com) is an innovator in mobile unified communication and collaboration (UCC) solutions. The company is changing the landscape of mobile UCC by providing secure, real-time mobile video calling and mobile collaboration solutions on all major smartphones, tablets and PC/MAC/Linux platforms, enabling collaboration on any device, any network, anytime and anywhere. Damaka's patented managed peer-to-peer SIP based software solutions feature Sweeping® technology, allowing users to seamlessly transfer in progress collaboration sessions to and from various devices, including laptops, tablets and smartphones. Damaka was founded in 2004 and is headquartered in Richardson, Texas. For more information on Damaka's Xime solution, please visit http://xime.damaka.com.
Contact:
Mrinal Rao
(972) 850-3002
xime.support(at)damaka(dot)net