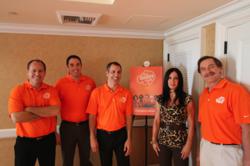 Irvine, CA (PRWEB) November 14, 2012
Orange County-based The Guppy Tank, has announced it will award its first funding to San Diego-based Advantage Payment Processing. Advantage Payment Processing was chosen from a competitive field of selected finalists who recently presented their business plans before the Guppy Tank investors at the Balboa Bay Club in Newport Beach. The purpose of the competition was to find and provide investments and loans to small companies that are already operating in Southern California, but are looking for the financial help needed to grow and expand.
"We had a great field of candidates in the final competition, but in the end we all agreed that Advantage Payment Processing would be our first winner," says Darrin Ginsberg, the Guppy Tank founder. "We felt that they fit all of our criteria and that they were having a positive impact on the local business community."
The program's sponsor, licensed California lender Super G Funding, LLC (DBA BizCash), designated a minimum of $500,000 or more for a funding pool from which investments will be awarded to the winning small business owners. Advantage Payment Processing is the first to be awarded funds. More names will be announced in the coming weeks. In addition to the funding, Advantage Payment Processing will be given the opportunity to work with the Guppy Tank investors and receive advice on how they might best grow their business.
"This was a great opportunity for us to receive the kind of funding that we need to help us grow our company," said Carrie Portugal, president of Advantage Payment Processing. Advantage Payment Processing is a merchant service provider in San Diego and provides a personalized service to small and large companies all over the United States in setting up their businesses to accept credit cards. "It was an interesting process and we enjoyed meeting all of the Investor Guppies. We will be using the funds we received from the Guppy Tank to help us hire additional sales people and to grow our business. The process was much less intimidating than the TV show The Shark Tank."
For more information on The Guppy Tank and future competitions that will be held throughout the US in 2013, please go to http://www.theguppytank.com