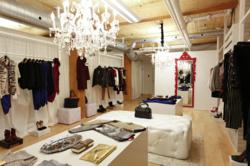 eLUXE will continue to grow as a multichannel brand and what better way to show that then to offer our customers the eLUXE digital shopping experience and make it physical. - Joanna Track, Founder & CEO
(PRWEB) November 15, 2012
eLUXE is thrilled to announce the opening of their ground floor showroom, The Luxe Lounge on Adelaide.
The Luxe Lounge offers a VIP shopping experience by offering customers the opportunity to spend time with an eLUXE personal stylist who will work with them to fulfill their personalized shopping needs.
Larger groups and indivuals are invited to book a complimentary appointment in the lounge to host private shopping events, style consultations, wardrobe clinics and luxe makeovers.
"eLUXE will continue to grow as a multichannel brand and what better way to show that then to offer our customers the eLUXE digital shopping experience and making it physical." Joanna Track, Founder & CEO
The Luxe Lounge will also be open to the public from Monday, December 3rd to the Sunday, December16th from 12pm-4pm daily,weekends included. Customers are welcome to stop by and shop the trends of the season, editors picks and much more!