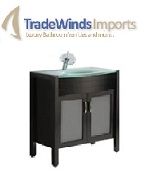 We're offering a Thanksgiving sale because we appreciate the need to start budgeting earlier, and we're grateful for our customers' patronage
San Diego, CA (PRWEB) November 16, 2012
As other businesses prepare for customary Black Friday sales, TradeWindsImports.com has announced a long sale this month on the days leading up to Thanksgiving. Starting today and through November 22, customers can enjoy sales on all site merchandise, with most luxury bathroom vanities and other items discounted at 35% to 45% off, along with a low price guarantee.
TradeWinds Imports is an online retail platform for high-end home utility items, featuring a wide selection of contemporary and classic bathroom vanities, vessel sinks, bathtubs, showers, faucets, and lighting fixtures. To ease the selection process, the site is searchable by category, style, size, material, collection, and other features. With an emphasis on aesthetics, elegance, efficiency, utility, and top-of-the-line materials and craftsmanship, the company prides itself in quality of both products and service. Customer service representatives are reachable by phone each day of the week to answer questions about product specifications, give recommendations, help with decision-making, and simplify the shopping process.
During a season when spending on gifts, winter clothing, utilities, and travel expenses rise, the management at TradeWinds Imports wanted to show their appreciation of customers before instead of after Thanksgiving this year.
"The holiday season is a home-oriented time for most people," says Mike Bowman, a representative from LTD Online Stores, the parent company of TradeWinds Imports. "This is a time when many of our customers are looking to renovate their homes in time for hosting company, but a lot of essentials won't go on sale until the end of the month--so people are holding off on things they already need right now. We're offering a Thanksgiving sale because we appreciate the need to start budgeting earlier, and we're grateful for our customers' patronage."
Bathroom remodeling is a popular method of adding value to a home property, and improving the impression of guests. "When you have company over, what part of your home do you think they'll scrutinize most thoroughly?" jokes Bowman. "Or for that matter, where are they most tempted to snoop? We hear from a lot of our customers buying vanities that they want to make a good impression in the simplest way possible."
The sale is accessible at http://www.tradewindsimports.com, and includes bathroom vanities that are exclusive to Trade Winds Imports. Also included is the "Premier Collection" of vanities meeting the highest standards of kiln-dried solid hardwood, fine construction including drawers with soft close mounts, 3-centimeter granite countertops, and hand-stained and -painted finish using a 15-layer sealing process.
TradeWindsImports.com carries a broad collection of the finest quality bathroom vanities, vessel sinks, bathroom mirrors, bathroom lighting, showers, bathtubs, and toilets on the market. The site features a comprehensive search feature to find diverse sizes, materials, and styles in their lines carried, including both traditional and contemporary pieces. With secure shopping and checkout, seven-days-a-week customer service, and informative articles, the business emphasizes quality of service and quality of product every step of the way.
For more information, contact (888) 900-0477 or info(at)TradeWindsImports(dot)com, or visit http://www.TradeWindsImports.com.