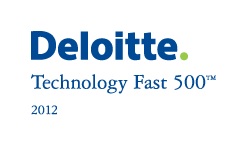 Reston, Va (PRWEB) November 14, 2012
Contact Solutions today announced it has been included on Deloitte's Technology Fast 500™, a ranking of the 500 fastest growing technology, media, telecommunications, life sciences and clean technology companies in North America. Contact Solutions grew 189 percent from 2007 to 2011.
Contact Solutions' Chief Executive Officer, Paul Logan, credits the company's customer self-service solutions, technologies, innovations, the diverse and talented staff, and its commitment to continuous improvement for the company's 189 percent revenue growth. He said, "Just being recognized on this list along with these other successful technology companies is a great honor. We are constantly striving to improve self-service technologies for our customers so they can best serve their valued clientele with a high level of personalized customer experience and a more cost effective solution. This growth validates the hard work of our employees and more motivation to continue our legacy of excellence."
"We are proud to honor the 2012 Technology Fast 500™ companies, and commend them for their
outstanding growth," said Eric Openshaw, vice chairman, Deloitte LLP and U.S. technology, media and telecommunications (TMT) leader. "These ground-breaking companies have outpaced their competition and are reinventing the way we do business today."
"The companies on the Fast 500 list are among those that have demonstrated remarkable innovation, creativity and business savvy," said Bill Ribaudo partner, Deloitte & Touche LLP and national TMT leader for audit and enterprise risk services (AERS). "As a result, these companies have continued to successfully forge ahead in a challenging economic environment. We applaud the leadership and employees of Contact Solutions for this impressive accomplishment."
Contact Solutions has had ten consecutive years of double-digit year-over-year revenue growth.
About Deloitte's 2012 Technology Fast 500™
Technology Fast 500, conducted by Deloitte & Touche LLP, provides a ranking of the fastest growing technology, media, telecommunications, life sciences and clean technology companies – both public and 4 private - in North America. Technology Fast 500 award winners are selected based on percentage fiscal year revenue growth from 2007 to 2011.
In order to be eligible for Technology Fast 500 recognition, companies must own proprietary intellectual property or technology that is sold to customers in products that contribute to a majority of the company's operating revenues. Companies must have base-year operating revenues of at least $50,000 USD or CD, and current-year operating revenues of at least $5 million USD or CD. Additionally, companies must be in business for a minimum of five years, and be headquartered within North America.
About Contact Solutions
Contact Solutions invents real customer service. Our patented technology, optimized solutions and culture of continuous improvement deliver a more personalized customer experience. Guaranteed.
Our Continuous Improvement Methodology™ has improved the customer experience for every client — with an average CX rating increase of 27.4% — while lowering costs. This unique model quantifies the customer experience, enabling our clients to continuously improve performance and achieve ROI, year after year. Contact Solutions is one of the top five largest hosted IVR providers in North America and the recipient of the Frost & Sullivan Product Differentiation Award. For more, visit http://www.contactsolutions.com
###