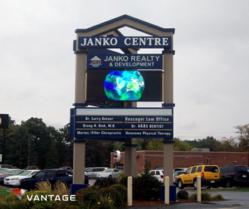 "P&D is a well established company with the talent and ability to perform... [The LED sign is] easy to use, the resolution is very clear, and it offers the highest visual performance for the investment." Tim Mills, Janko Realty
Peru, IL (PRWEB) November 27, 2012
Drivers going through north Peru have something new to look at - a high resolution LED sign for the Janko Centre at the corner of Shooting Park Rd and HWY 251. The LED sign was manufactured by California based Vantage LED and provided by P&D Sign Company, an award winning 2nd generation sign company that provides signage to the north central Illinois area.
The new LED sign replaced an older, lower resolution sign that wasn't able to provide Janko Realty the fresh dynamic content that they needed for todays market.
"The original sign was losing clarity and the panels were dimming from age. New LED signs at other area businesses in comparison were 'outshining' our aging 34mm LED." said Tim Mills, Director of Graphic Design and Marketing at Janko Realty.
The "curb appeal" of any property is important, especially one owned and occupied by a realty company. In operation since 1980, Janko Realty & Development has been serving central Illinois for over 30 years in both the commercial and residential markets. They acquire, manage, market and develop a host of commercial and industrial properties in the region and their residential division has represented thousands of home buyers and sellers in the area.
"We continually focus on customer service." said Mills, explaining that this has been a large factor in growing the customer base in the current economy, "The last several years have been difficult for real estate offices in general, " he said. "But we maintain a positive attitude."
Janko sought quotes from local companies as well as the original out of state company that supplied the old sign. According to Mills, getting a good value and using a local company were important considerations for the project. They eventually decided to use P&D Sign Company, a local company who utilizes LED signs manufactured by US based Vantage LED.
"During the decision process, P & D was very prompt and thorough in providing various types of product information that efficiently represented [the sign's] performance compared to other LED sign sizes." said Mills.
P&D Sign is a 2nd generation company that has been providing service, installation and fabrication of all types of signage to north central Illinois for close to 30 years. They are a member of the Illinois Sign Association, and the ISA (International Sign Association).
"The business was started by Daniel and Patrick Iwanicki (my father and brother)," related Tim Iwanicki, Sales Manager for P&D Signs. "My father has been in the sign industry since the late 1950's and actually built and installed some of the original McDonald's signs with his employer at the time."
According to Iwanicki, they rely heavily on this long term experience and knowledge to create the best signs in the area and insist on UL labeling for all their electric signs.
"Believe it or not, there are still sign companies that do not do this, and that is scary." he said.
P&D works with Vantage LED, a US based supplier located in Corona, California, for LED sign projects. They have been pleased with the performance of the signs, customer support, and Vantage LED's LightSpeed™ software.
"Vantage is very quick with their response time and their quality is second to none." said Iwanicki "The software is intuitive to use, and their signs are very steady performers."
LED signs are still a relatively new advertising tool for businesses, but have seen major growth in the last 5-10 years as more people realize the advertising potential. When asked about the benefits of LED signs compared to traditional advertising methods, Mills explained "Print advertising has the constraints of a static display of words and small images, radio ads are only as lively as the individual reading the copy, but the LED sign is consistently dynamic, vibrant and stimulating to watch."
"P & D kept on track for sign installation without any indecision or rescheduling. They arrived promptly on the day sign installation was to begin and there were no delays or setbacks to complete it." said Mills. "Minor adjustments had to be made to center the new sign in the existing area. The final placement represents P & D's experience and attention to detail."
Mills has been pleased with the performance and doesn't hesitate to recommend both P&D Sign Company and Vantage LED to others.
"P&D is a well established company with the talent and ability to perform a wide array of signage tasks. They take pride in their work." he said, adding the LED sign is "...easy to use, the resolution is very clear, and it offers the highest visual performance for the investment."
The improved LED sign has given new life to the existing structure. The effect of the higher resolution and upgraded technology are evident, and the sign is now providing the dynamic advertising solution Janko was looking for.