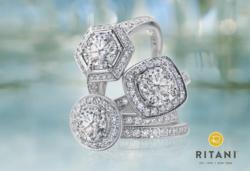 San Francisco, CA (PRWEB) November 14, 2012
Steve Padis Jewelry, one of the most trusted names in the jewelry industry for nearly 40 years, announced today that it is partnering with Ritani, a leading designer of engagement rings and fine jewelry, to integrate customers' online and in-store purchase experience. Steve Padis Jewelry is one of six jewelers across the nation rolling out Ritani's all-encompassing clicks-and-bricks experience where engagement rings and diamonds can either be purchased online and delivered directly to the consumer, or can be reserved online and delivered to Steve Padis Jewelry to be seen in-person before purchase.
"Increasingly the buying process for an engagement ring starts online but there still is a tremendous desire to see their specific ring in person before making a purchase," said Steve Padis, president of Steve Padis Jewelry. "Combining our 40 years of jewelry experience and quality in-person service with Ritani's online presence gives our customers exactly what they are looking for when shopping for jewelry."
Just in time for holiday engagements, the partnership between Steve Padis Jewelry and Ritani puts consumers' shopping preferences at the center of the engagement ring and jewelry purchase experience. Whether it's creating a one-of-a-kind ring online, choosing from some of Ritani's most popular halo, classic, and solitaire designs or creating a ring with a similar look to that of recently engaged celebrities, customers are in complete control.
Engagement ring shoppers in the Bay Area can order directly online from Ritani.com. Or, with no obligation to buy, they can reserve engagement rings and loose diamonds to be seen in-person at Steve Padis Jewelry's Utah Street location at The San Francisco Jewelry Center.
Steve Padis began his career as a jeweler during his senior year at the University of California, Berkeley, by stringing shell beads and selling them on Telegraph Avenue. By the time he graduated in 1975, he had ventured into sterling silver, turquoise jewelry, and then into gold chain before finding his true passion for precious metals and diamonds. Now some 40 years later, Steve Padis Jewelry is a well-respected family-owned business operated by Steve and his wife Judy that has the largest selection of engagement rings and loose diamonds in California.
"Our partnership with Steve Padis Jewelry bridges the online and physical world for engagement ring and diamond shoppers in the Bay Area," said Brian Watkins, the newly appointed president of Ritani. "We believe combining Steve Padis Jewelry's superior in-store experience and sterling reputation with Ritani's collection of engagement rings, diamonds, and our unique way of buying or reserving online, we are able to create the ultimate engagement ring and fine jewelry purchase experience."
# # #
About Steve Padis Jewelry:
Steve Padis Jewelry is one of the most trusted names in the industry, specializing in engagement rings & fine jewelry for nearly 40 years. Family-owned & operated, Steve Padis Jewelry has 3 locations in the San Francisco Bay Area. As one of only a handful of jewelers that buy directly from the source, Steve Padis Jewelry is proud to have the largest selection of engagement rings & diamonds in Northern California. As the San Francisco exclusive authorized retailer of brand name designers such as Ritani, Tacori, Verragio & Simon G and an in-store inventory of thousands of certified diamonds, Steve Padis Jewelry has something for everyone, and every occasion. For more information, visit our website or follow us on Facebook.
About Ritani:
Ritani (http://www.ritani.com) is a premium jewelry brand modernizing the way consumers purchase engagement rings and fine diamond jewelry. Founded in 1999, Ritani marries the online shopping experience for handcrafted and custom-made engagement rings, loose diamonds, and other fine jewelry with a network of trusted local luxury jewelers in one seamless transaction. Ritani is headquartered in New York with e-commerce operations in Seattle.
Steve Padis Jewelry, Ritani, and their respective logos are trademarks, registered trademarks, or service marks of Steve Padis Jewelry and Ritani. Other products and company names mentioned are the trademarks of their respective owners.