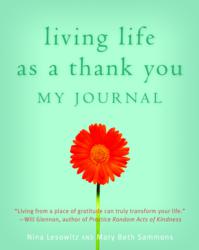 (PRWEB) November 14, 2012
In the past few years, we've seen the growth of a burgeoning gratitude movement, wherein people have incorporated the practice of gratefulness into their daily lives. Nina Lesowitz and Mary Beth Sammons really tapped into this with their breakout bestseller, Living Life as a Thank You. They have shown the benefits of counting blessings. The newly released Living Life as a Thank You: My Journal can help people do just that as well as create a "spiritual bucket list," and learn ten ways to cultivate a grateful heart.
Will Glennon, author and cofounder of the Random Acts of Kindness movement said, "Twenty years ago, we gathered together to write about, talk about, and do Random Acts of Kindness, and from this small group a kindness movement was born that circled the globe. With Living Life as a Thank You, Nina and Mary Beth have tapped into something just as deep and powerful that can truly transform people's live—our deep and abiding need to feel and live from a place of gratitude."
Living Life as a Thank You: My Journal
by Nina Lesowitz and Mary Beth Sammons
Keeping a gratitude journal can change someone's life for the better. And quickly, too! Thankfulness is all about being aware of all the blessings in life—the abundance found in each and every day. By taking just five minutes a day with the practices and prompts within, everyone will find themselves moving towards a happier and more fulfilling life.
Living Life as a Thank You
The Transformative Power of Daily Gratitude
by Nina Lesowitz and Mary Beth Sammons
Whatever is given—even a difficult and challenging moment—is a gift. Living as if each day is a thank-you can help transform fear into courage, anger into forgiveness, isolation into belonging, and another's pain into healing.
Newly released Viva titles Get What You Want and Imperfect Spirituality also incorporate the practice of gratitude. An important part of every intenders circles is sharing gratitudes and intentions. As Polly Campbell says in Imperfect Spirituality, "Gratitude is the surest way to heal your heart and soul and to move your focus to what is good and working in your life."
Get What You Want
The Art of Making and Manifesting Your Intentions
by Tony Burroughs
The first humble intenders circle had dramatic and life-changing effects, leading Burroughs directly to his mission of guiding others in the art of manifesting the best in themselves and the Highest Good. The tenet of Get What You Want is simple, powerful and profound: "that which you are reaching toward is also reaching out toward you."
Imperfect Spirituality
Extraordinary Enlightenment for Ordinary People
by Polly Campbell
In Imperfect Spirituality, Campbell shows you how to integrate those everyday moments with traditional spiritual techniques to increase your personal growth and well-being.