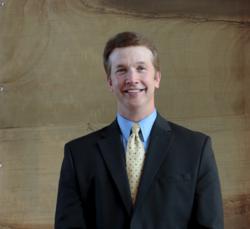 Dr. Schaufelberger complements the range of orthopedic services offered at The Kennedy Center.
Oshkosh, WI (PRWEB) November 15, 2012
The Kennedy Center at Mercy has announced the addition of Kenneth Schaufelberger, MD as the newest member of their medical team. Dr. Schaufelberger is currently one of the only Fellowship trained hand, wrist and upper extremity surgeons working in the Oshkosh area. The addition of Dr. Schaufelberger complements the range of orthopedic services offered at the Kennedy Center.
Dr. Schaufelberger graduated from the University of Wisconsin Medical School, in Madison, where he also completed his internship and residency in general and orthopedic surgery in 2005. Since 2006, Dr. Schaufelberger has been an Associate Clinical Professor in the Department of Orthopedic Medicine at the Medical College of Wisconsin. In 2009, he was awarded the Medical College of Wisconsin Clinical Professor of the year Award.
Aside from his medical work, Dr. Schaufelberger also enjoys hunting, fishing, football, softball, weight lifting, carpentry and automobile restoration in his spare time.
The Kennedy Center, home of some of the most dedicated orthopedic surgeons in Wisconsin, continues to lead the region in the highest quality surgeons and staff available. It has board certified and fellowship-trained surgeons in hip and knee replacement, orthopedic surgery, sports medicine, and now hand, wrist, elbow and upper extremity care including full or partial shoulder replacement surgery.
About The Kennedy Center for the Hip and Knee:
The Kennedy Center offers a wide range of orthopedic procedures including partial knee replacement, knee ligament surgery and a full range of hip and knee replacement options. Located at the Mercy Medical Center, the Kennedy Center is known as a leader in Wisconsin orthopedics and has been an innovative force in the field of knee and hip replacements and other orthopedic surgeries since its founding in 1983. Their expertise in sports medicine and other areas of orthopedics have set the industry standard for Wisconsin orthopedics for over 25 years.
For more information about the Kennedy Center at Mercy, visit their website at http://www.thekennedycenteroshkosh.com/ or call toll-free at (800) 322-2141.