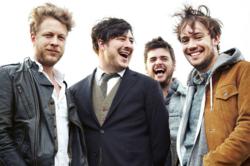 Denver, CO (PRWEB) November 14, 2012
Mumford and Sons recently toured the U.S., selling out most of their dates. Now, on top of their recently released second studio album, Babel, the English folk band is touring their homeland.
The group's 13-date Ireland/United Kingdom swing is called The Tour Of Two Halves, and it's creating a whole lot of demand for tickets, both there and here at home as well. The four-piece folk band is playing a mixture of theatres and arenas, starting in Torquay and ending in Belfast. In the meantime, they're creating quite an uproar, as tickets to their opener on November 21, 2012 at the Princess Theatre in Torquay sold out in just 20 minutes, causing a near riot in the streets.
"Mumford and Sons' wild popularity continues to create a domino effect for tickets both here and overseas," said Felina Martinez at online ticket marketplace BuyAnySeat.com. "In fact, right now we're seeing a major spike in online traffic for Mumford and Sons tickets, and seats for their upcoming U.S. dates are starting to sell out quickly."
"That's why we're proud to be able to offer fans a complete selection of discount Mumford and Sons tickets, with a worry-free guarantee to protect their purchase," said Martinez.
"In fact, we still have a great selection of inexpensive Mumford and Sons tickets now available on our site," said Martinez. "To access the complete selection of discount Mumford and Sons tickets we now have available, customers can go to BuyAnySeat.com and search for Mumford and Sons – then select their tickets," said Martinez.
Formed in 2007, Mumford and Sons is a four-piece English folk band. Emerging out of the "West London folk scene", the band consists of Marcus Mumford on vocals, guitar, drums, and mandolin; Ben Lovett on vocals, keyboards, accordion, and drums; "Country" Winston Marshall on vocals, banjo, dobro, and guitar; and Ted Dwane, also on vocals, string bass, drums, and guitar.
The band's debut album, Sigh No More, was released in the U.K. and Ireland in October 2009. It reached number one in Ireland, Australia and New Zealand and eventually peaked at number two on the U.K. Album Chart and the Billboard 200 in the U.S. The album sold more than one million copies in the U.K. alone.
Their second studio album, Babel, was released in September 2012 and debuted at number one in the U.K. and U.S., becoming the fastest selling album of 2012 in England, and the biggest selling album debut in 2012 in the United States.
Mumford and Sons' popularity skyrocketed throughout 2010. First, they received two Grammy Award nominations, one for Best New Artist and the other for Best Rock Song "Little Lion Man". The group won the ARIA Music Award for Most Popular International Artist in 2010, and the Brit Award in 2011 for Best British Album. They also received the European Border Breakers Award in 2011 for their international success.
Currently, the band is touring in places with names like Torquay, Portsmouth, Ipswich, Dundee, Llandudno, Newcastle, Manchester, London, Dublin and Belfast. And, soon they will be playing in places called Boston, Brooklyn, Fairfax, Virginia and Camden, New Jersey. And, at the rate ticket sales are going, every place they play will probably be sold out.
To shop for cheap Mumford and Son tickets, visit BuyAnySeat.com.
About BuyAnySeat.com: An online ticket marketplace, BuyAnySeat.com connects sports, theater and other live entertainment fans to an extensive worldwide network of ticket sellers. The site's simplified listings and navigational tools enable fans to easily locate, compare and purchase inexpensive, discounted or lower-priced tickets to virtually all advertised sports and entertainment events around the globe. The site, which is PCI-compliant and Norton Secured, also provides customers with a complete Worry-Free Guarantee on all ticket purchases. Based in Denver, Colorado, BuyAnySeat.com is a subsidiary of Denver Media Holdings. For more information, please visit http://buyanyseat.com.