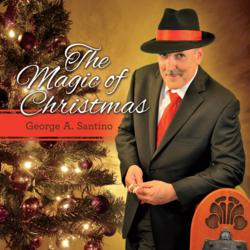 Seattle, WA (PRWEB) November 14, 2012
A crackling fire, hot cocoa and good friends, whether at a family gathering or a company party, no holiday celebration is complete without joyful music. As one of the few Holiday albums released by a Northwest singer this year, George A. Santino's The Magic of Christmas includes Christmas classics "Baby It's Cold Outside," "Jingle Bell Rock," and "The Christmas Song," as well as the new original song "The Magic of Christmas," which was written by George A. Santino and Larry R. Bridges and includes a violin solo from local artist Geoffrey Castle and was produced, mixed and mastered by Erich Benedict of With an H Media. "Christmas is my favorite time of year. I hope that my fans enjoy this album as much as I enjoyed the experience of recording it," says George A. Santino. The Magic of Christmas can be purchased on iTunes and CD Baby, and will soon be available on Amazon; physical albums are available on http://georgeasantino.com.
"Listening to George sing.. you can tell that this is definitely a man that sings from the heart!!" -- Robert Coronado, Amazon customer.
"You can't go wrong here because as much as folks like all the classic stuff, it's nice to get something new that genuinely works for Christmas." -- Charles Wheeler, Amazon customer.
George is known for his Frank Sinatra-inspired recordings in his own style. His debut album "Come Fly With Me," released this summer was a collection of crooner hits and the first single, "That's Life" debuted as #1 on Amazon's Hot New Releases in Swing Jazz. His music video for "Come Fly With Me," with over 12,000 views, was well received by jazz music fans and the media. The Jazz Times said, "George A. Santino has launched yet another fulfilling career—that of smooth crooner of the Great American Songbook."
George A. Santino has wanted a career in music since he was a boy but shelved his dream to provide for his family. After fulfilling a rewarding career at Microsoft, he was able to embark on a new journey and pursue his passion for performing and storytelling. George was born in Philadelphia, PA to a family struggling to provide and growing up in a housing project where poverty and violence were prominent. George learned early on that he had to work hard to get ahead; he has a uniquely American story to tell.
To learn more, visit http://georgeasantino.com/
Contact: info(at)georgeasantino(dot)com