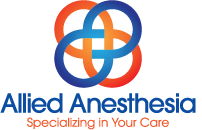 Orange, CA (PRWEB) November 14, 2012
As the holiday season approaches, the physicians at Allied Anesthesia know that surgery is seldom on any child's gift list.
Yet, many parents choose to schedule their child's surgery at year's end to save on insurance deductibles and to take advantage of school and work holidays when children and parents may have time off.
Surgery triggers fear and anxiety among patients of all ages no matter what time of year. But, children facing surgery over the holidays may also feel left out, alone and angry especially when they will miss celebrations with family and friends.
Allied Anesthesia doctors, who provide anesthesia and pain management services at Children's Hospital of Orange County (CHOC), are committed to ensuring that every pediatric patient they encounter is as comfortable and unafraid as possible, no matter how difficult and dangerous the procedure. With that in mind, they have compiled some tips for parents to help make their child's experience less mysterious and miserable and more positive and productive, especially during the holidays.
1) Whether the child is undergoing a minor outpatient procedure or major surgery, it's important for parents to remain calm and reassuring. Children take their cues from their parents. If their parents are worried and anxious, they will be worried and anxious as well.
2) It's best if children and parents have an idea what to expect. There are many age-appropriate books on the market featuring familiar characters such as "A Visit to the Sesame Street Hospital" and "Curious George Goes to the Hospital." Wrap the book in holiday gift wrap and give it to the child as a pre-surgery gift. Then, sit down and read it together.
3) Younger children might enjoy playing "doctor" with a doll or stuffed animal. Parents can purchase a kit with toy instruments and show them how to take the doll's temperature or listen to its heartbeat. Older children might benefit from a pre-operative tour of the hospital where they will meet members of the hospital staff and become familiar with the rooms, equipment and procedures.
4) Instead of focusing on what the doctor is going to do, focus on the outcome such as "after your knee surgery, you will be able to play baseball again."
5) For children, who are going to have to stay in the hospital overnight or longer during the holidays:
• Check with the hospital to see if Santa makes bedside visits or special holiday events or meals are planned. Tell the child so they have something special to look forward to.
If the hospital allows, hang a few holiday decorations and family photos in the child's room. Bring their sheets and pillow from home to make them feel more comfortable.
If a holiday gathering is planned while the child is in the hospital, have someone videotape the gathering or take photographs. Ask everyone to say a few words to the child or write a note that can be shared later.
Even though it's the holidays, hospital rooms are small so gifts should be limited. Avoid bringing candy and other treats because some children will be on a restricted diet. Bring a book or movie instead and read or watch it together.
Above all, be honest and reassuring.
About Allied Anesthesia: With 48 highly qualified anesthesiologists on staff, Allied Anesthesia provides adult and pediatric anesthesia services to Joseph's Hospital of Orange, the Children's Hospital of Orange County, the Main Street Specialty Surgery Center, and many other Southern California healthcare facilities.
Allied specializes in pediatric anesthesia, performing approximately 12,000 pediatric anesthetic procedures a year. All of the group's anesthesiologists have a special interest in pediatric pain management and are board certified or board eligible in pediatric anesthesia.
Allied is a member of the California Society of Anesthesiologists, the American Society of Anesthesiologists and the Healthcare Financial Management Organization.
For more information, visit http://www.alliedanesthesia.com.