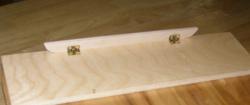 We strive to keep up with the demands of our customers. This new hinged ledge is perfect for catching slippery tablets.
(PRWEB) November 21, 2012
Lap of Luxury Lap Desks wants their customers to know that they care about their needs. iPads, Kindles, and other tablets are now very popular and also very slippery! For this reason we are introducing the flip down ledge.
The new ledge is on hinges and is a full half-inch when flipped down. The tiny gold hinges are attractive and add to the overall heirloom quality of the desk. The half-inch ledge will catch all tablets as they slide down the slope made by most people when they lean back while using a lap desk. The new ledge is an option that can be added to the order.
All desks will now be fitted with a 3/8" ledge if the flip down option is not chosen. This ledge is 1/8" higher than the present ¼" pencil ledge. This ledging will catch the edges of thinner tablets.
All Luxury Lap Desks are meticulously handmade. Attention to detail, quality materials, and a wide variety of excellent woods and fabrics makes Luxury Lap Desks stand apart. The varieties of desktops available for the ½" desk top include walnut, cherry, maple or bamboo and the choice continues with over 65 fabrics available. Matching home furniture is entirely possible with this wide range of lap desk combinations.
A large bamboo or wood top Lap Desk provides a full 5" of lift allowing the back and neck to assume more normal curves thus decreasing muscle strain and pain.
For the laptop computer user, the writer, the crafter, the person who likes to eat comfortably while watching TV, and now all tablet users a Luxury Lap Desk is a good solution.
Since 2005, Lap of Luxury Lap Desks has made lovely and functional products that allow users to work away from a table or desk with support and ease. Easing the process of ordering with the integrated Shopping Cart is one way of showing their high regard for the customer.