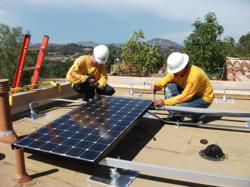 We want to build a strong solar community in Orange County.
Irvine, CA (PRWEB) November 14, 2012
Sullivan Solar Power, one of Southern California's leading alternative energy companies, today announced its expansion into a larger Irvine office to accommodate new staff and meet growing solar demand in Orange County. Despite a tough local and national economy, Sullivan Solar Power's steady growth has led them to double in size every year for the past three years. The firm's latest expansion comes as a result of a twofold increase for its number of employees in the Southern California utility territory over the last year.
"The demand for solar energy in the Orange County has been growing at a steadfast rate and the new location will allow us to better serve the region and our clients within it," said Daniel Sullivan, founder and president of Sullivan Solar Power.
The Irvine expansion has allowed for additional employees to join the Sullivan Solar Power team by moving its Orange County facility to a new 2,885 square-foot office location that is over twice the size of its previous 1,241 square-foot space. The company has recently hired 5 new additional full-time employees, with plans to add a dozen more jobs over the next year.
Sullivan attributes the firm's local success story to their commitment to providing the highest quality service, expertise, and use of reliable, proven products. The company has become a leader in innovative educational programs by running numerous community incentive initiatives throughout Orange County, with active campaigns being administered in the cities of Orange and Villa Park currently. Collectively, the community programs have paid local residents over $70,000 to go solar.
"The vision is to lead a solar energy revolution where we shift our dependence from foreign fossil fuels to renewable resources," said Dustin Urquhart, director of Orange County operations at Sullivan Solar Power, "We want to build a strong solar community in Orange County."
In the past year, Sullivan Solar Power has designed and sold over 1,800,000-watts of clean renewable energy in the Orange County area. With another recent office location that opened in the Inland Empire in September, the firm continues to expand its reach in the Southern California region.
About Sullivan Solar Power
Sullivan Solar Power is a turnkey solar system provider that delivers solar electric projects from concept to completion with offices in Orange, Riverside and San Diego counties. The company has installed more than 10 million watts of solar power ranging from residential to large commercial and municipal systems. Sullivan Solar Power has a longstanding A-plus rating with the Better Business Bureau, with no complaints filed since its founding in 2004. The firm has been named one of the nation's fastest growing energy companies by Inc. Magazine and services clients throughout Southern California. Regardless of project size and scope, Sullivan is committed to delivering the best products provided by the most qualified professionals to every customer. Visit sullivansolarpower.com for more information.
###