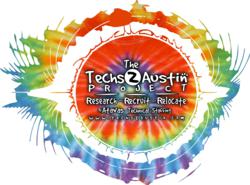 "We have a plan in place and are actively working on tapping the appropriate IT markets to make a connection with the right talent - the talent that Austin needs."
AUSTIN, TEXAS (PRWEB) November 14, 2012
Atavas, an Austin-based recruiting and staffing company, announces the launch of its Techs2Austin Project. The project aims to help fill the severe software engineering shortage that the Austin, Texas area is currently experiencing. The project is slated to tap the top 20 software engineering markets around the country in order to find highly qualified talent who are willing to relocate to Austin.
"We are excited about launching the Techs2Austin Project, and believe we will be successful in finding the right talent to fill the great software engineering positions that the Austin area has to offer," explains Phillip Foti, the founder of Atavas Staffing and RPO, a well-known staffing and recruiting firm based in Austin. "We have a plan in place and are actively working on tapping the appropriate markets to make a connection with the right talent - the talent that Austin needs."
Others in the city have made several failed attempts at recruiting talent for Austin. They have made treks to the San Francisco area in an effort to lure qualified candidates, yet in the end they all came out empty-handed. Dozens of high-tech companies have moved their headquarters or have opened their companies in the Austin area, creating an ever-increasing demand for talent. Without the talent coming to the businesses in Austin, those companies who need people will be held back, missing out on innovation and falling behind the competition, and will not attain the growth they would like.
The idea for the Techs2Austin Project came to Foti after he observed the well intentioned but failed attempts of the Austin Technology Council's efforts to recruit engineering talent to the area. In addition to that, he also considered the supporting data regarding the field in the area, and realized the effort to recruit talent needed to be proactive and focus on recruitment, direct engagement combined with direct marketing.
"Following these efforts, we will be successful in bringing candidates to Austin's talent-starved high-growth start-ups," adds Foti. "It's crucial that Austin get the software engineering talent that it needs, so that businesses can grow and thrive. The Techs2Austin Project is just the answer that this great city needs."
For more information about the Techs2Austin Project, visit the site at http://www.Techs2Austin.com.
About Atavas Staffing and RPO:
Atavas Staffing and RPO, based in Austin, Texas, is well established in the staffing industry. The company focuses on person-to-person recruitment, deep industry research, coupled with direct marketing demand generation, social media engagement, Web 2.0, and call-center prospecting. Techs2Austin is their latest project, which aims at bringing highly qualified Information Technology talent to the Austin area. The company provides staffing and recruitment services to a variety of industries, including those in health care, information technology, and healthcare IT. For more information on Atavas or Techs2Austin, visit the site at http://www.Atavas.com.
# # #