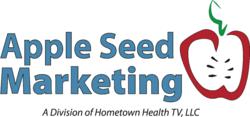 Leesburg, Fla. (PRWEB) November 14, 2012
Apple Seed Marketing (http://www.AppleSeedMarketing.com) a division of Leesburg-based Hometown Health TV, LLC has been recognized by a panel of marketing and creative professionals with a 2012 MarCom Gold Award in the category of medical video or film. This is the third MarCom Honor for Hometown Health TV/Apple Seed Marketing.
Apple Seed produced the video "11 Minutes" to be used as a tool to help medical practitioners encourage patients to stop smoking. The practitioners use the customizable and interactive video as part of a consultation with patients.
"It has been reported that every cigarette reduces a smoker's life by 11 minutes," said Marc Robertz-Schwartz, president, Apple Seed Marketing. "We are especially proud that this particular project was honored because it reflects our commitment to a healthy lifestyle and to assisting medical practitioners in seeking better health outcomes for their patients."
Practitioners can utilize the smoking cessation video as an aid during patient consultations and can submit for reimbursement payment to Medicare, Medicaid and some private insurers.
The MarCom Awards is an international creative competition that recognizes outstanding achievement by marketing and communications professionals. Entries come from corporate marketing and communication departments, advertising agencies, PR firms, design shops, production companies and freelancers.
The practitioner's investment for the complete turn-key package includes the logo customization, the short and long version of the video, complementary patient questionnaires and 10 DVD- copies. The winning "11 Minutes" smoking cessation package can be ordered nationwide by calling (352) 267-7247. The video can be previewed on YouTube.
About Apple Seed Marketing
"Every great idea, approach and business has to start with a seed." Apple Seed Marketing, a division of the multi award winning Hometown Health TV, LLC offers a handful of seeds and works with clients to determine which will yield the greatest crop of results depending on the individual client's needs, audience and budget. Apple Seed taps into an extensive network of resources across numerous platforms of expertise to help clients reach core objectives that generate desired results.