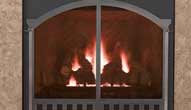 I'm always admiring the Heatilator in our family's living room with it's beautiful doors. It's why everyone loves sharing the room together.
Chicago, IL (PRWEB) November 23, 2012
Supremefireplaces.com, a seller of fireplace doors and accessories, provide Heatilator glass doors to give fireplaces the best look possible while keeping everyone's house both safe and comfortable. There are many attractive styles available at their site that will fit a variety of fireplace models and rooms. The website now offers a coupon code for 5% off all sets of doors.
As the season continues, many people are getting ready for the much colder months ahead. There's almost nothing better this time of year than being home and relaxing by a nice warm fire with the friends and family. Thanks to the Heatilator glass door that's installed over the fireplace, not only is the fire safely contained but the lavish design of the frame makes the fire and logs look picture perfect for such a nice and intimate occasion.
For anyone looking to decorate their fireplaces this year, supremefireplaces.com provides the doors and accessories needed to get the job done. These doors help to greatly reduce heat loss and promote cheap and efficient heat circulation throughout the home. The view through the tempered, safety glass is quite clear and easy to admire with its elegant designs and finishes, including choices of black, brass, iron, and stainless steel. Also, these doors are practically designed to accommodate for gas burning, wood burning, and electric fireplace models as well as provide a variety of attractive selections that will compliment any room. They are quick and easy to install and don't require any professional help.
Besides glass doors, supremefireplace.com also supplies Heatilator gas logs and hearth systems for their suitable ease and cleanliness. Also, its Simplifyre electric fireplaces are the most realistic alternative to both wood and gas and can be installed by simply placing the one box cabinet against any wall and plugging into it. One last decorative touch to the scene can be finished with the site's own fire resistant hearth rugs and additional tool sets to help keep the fire lasting all night.
Supremefireplaces.com is an authorized Heatilator seller, and more information can be found by going to their site. As of right now, the site has a special discount of up to 5% off any purchase with coupon code "PRSP5", which can be entered upon checkout.