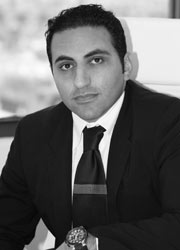 Los Angeles, CA (PRWEB) November 13, 2012
Slip and fall accidents are becoming a more and more common occurrence in our country. The Centers for Disease Control and Prevention (CDC) reports that over 1 million Americans were involved in one of these accidents each year in the U.S.. Of those million accidents, 17,000 incidents prove to be fatal, with a large portion of the injuries occurring in American workplaces. In fact, 15 percent of all job related injuries are of the slip and fall variety.
In response to the increase in these cases, the partners at BD&J Law are making themselves available, 24 hours a day, 7 days a week, to those individuals who have questions regarding a slip and fall accident they were involved in.
As a Los Angeles slip and fall attorney,
partner and co-founder of the firm, Kevin Danesh has seen and dealt with these types of incidents in the past. According to the section of his firm's website devoted to slip and fall accidents (http://www.bdjinjurylawyers.com/slip-fall-lawyers.aspx) his firm has handled many slip and fall claims to great success.
"Slip and fall accidents can happen anytime, anywhere" remarks Danesh. "They can also be very complex cases, which require experience and knowledge of the law when determining liability."
Danesh explains that examining the facts surrounding an accident is necessary to get a clear picture of who may be held liable for injuries that are the result of slip and falls. Generally speaking, the fall must be caused by a dangerous or hazardous condition that the property owner was aware of for liability to be established.
Asking questions like; was the accident caused by poor lighting? If it was caused by a spill, was the spill in place for a long period of time? Did the property owner know about it? Also, were you authorized to be in the area where the accident happened? And would a 'reasonable individual' be able to avoid the accident altogether? These are all questions that can help determine liability in cases like these, explained Danesh.
Danesh also explained that it is important to realize that slipping on a spill or tripping over an obstacle, by itself, does not necessarily mean that the property owner is liable for your injuries. This is especially the case if they took steps, such as placing a yellow hazard sign on a wet floor, or if the spill just happened, it can be hard to prove that the property owner was negligent.
For a limited time, the partners at BD&J Law Offices are making themselves available 24 hours a day, 7 days a week to those who may have suffered injury due to a slip and fall accident and are interested to know if they are eligible for compensation for their injuries. Potential clients can reach the firm's partners by calling, toll free 800-820-1111. They can also reach the partners by filling out a consultation form on the firm's website.
About Banafsheh, Danesh & Javid, P.C.
The Los Angeles premises liability attorneys of BD&J has been representing the injured for more than 10 years. The firm's partners have a combined 50 years of experience practicing California Law and they have a 97% success rate for the cases they take on. The firm takes on all manner of personal injury cases, including Los Angeles motorcycle accidents, car accidents in Los Angeles, truck accidents, dog bite cases and much more.
For a limited time, the partners of Banafsheh, Danesh & Javid, P. C., are offering free, no obligation consultations of potential cases. They can be reached 24/7 at 800-820-1111.