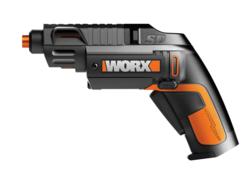 (PRWEB) November 14, 2012
Finding the perfect gift for the tool lover in your life can be challenging. But, this holiday season, WORX® has made shopping for the handy person who has everything a lot easier by introducing a great selection of tool innovations. These include the new WORX SD SemiAutomatic Driver, WORX 20V Max Lithium 2.0 GT Trimmer/Edger/Mini-mower and WORX TRIVAC® with 2-stage impeller system.
You don't have to be the Lone Ranger to appreciate the WORX SD SemiAutomatic Driver (WX254L, $49.99). Instead of shooting silver bullets, this one-of-a-kind, cordless screwdriver has a six-slot revolving chamber to rotate bits in and out as needed. Shift from slotted to Phillips to Torx® to square-recess bits by simply sliding the magazine cover back, then forward. There's even a screw-starter bit for drilling pilot holes. The kit includes the SD Driver, two bit cartridges, 12 hex-shank bits and a 5-hour charger for the 4V lithium-ion, built-in battery. It's available at http://www.worx.com.
The WORX 20V Max Lithium 2.0 GT Trimmer/Edger/Mini-mower (WG160, $119.99) is a powerful grass trimmer, precision edger and even a mini-mower–all in one. The lightweight, cordless tool has nearly double the battery capacity and cuts a 2-in. wider swath (12 in.) than its predecessor. It also features a longer adjustable, telescoping shaft to match the user's height and two wheel positions. One wheel position is for trimming, while the other lifts the trimmer 3 in. off the ground to function as a mini-mower.
The head of the GT Trimmer tilts 90° for trimming under decks, shrubs and other hard-to-reach areas. With a twist of the cutting head, it converts into a walk-behind edger. A pair of skate wheels enables a keen cut line along sidewalks, driveways and patios. When the wheels are in the mini-mower position, the versatile yard tool trims narrow strips of grass at a consistent 3 in. height. The GT Trimmer is available at http://www.worx.com. For video link, click: https://www.youtube.com/watch?v=v7AN12p311Y&feature=player_embedded
WORX new TRIVAC All-in-One Compact Blower/Mulcher/Vac has a two-stage mulching system (WG502, $139.99). The TRIVAC's metal impeller reduces leaves and yard debris into fine, shredded mulch. Its 18-to-1 mulching ratio means that one bag filled by the TRIVAC is equivalent to 18 bags filled by hand. With many municipalities charging homeowners for curbside leaf pickup, the TRIVAC saves money, as well as time and labor. It's available at http://www.worx.com. For video link click: https://www.youtube.com/watch?v=Irip0nGEI-8
The eco-friendly TRIVAC is powered by 12-amp motor and delivers a maximum air volume of 350 cfm. It is equipped with a 1.5 bushel capacity collection bag. WORX also offers the TRIVAC Leaf Collection System (WA4053.1, $39.99). Fine shredded leaves and other yard debris are funneled from the TRIVAC through a hose and into a waste receptacle. The Leaf Collection System is available at http://www.worx.com
Editor's Note: Media Contact: MKM Communications at 847-255-1903 or mkmcomm(at)gmail(dot)com