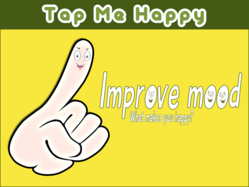 'Tap Me Happy' is a virtual happy place.. kids put what makes them happy in the app!
(PRWEB) November 15, 2012
Tap Me Happy is an innovative new kid's app, which has been released worldwide this week by Belinda Ratcliffe, an Australian Clinical Psychologist and Director of Interactive Feelings.
Tap Me Happy is designed to improve mood, boost happiness and help kids manage their sad feelings. Kids with autism, kids whose parents have gone away for work, sick kids in hospital, kids who are bullied at school and any kid experiencing any kind of loss, sadness or difficult time has the potential to benefit from this app.
Belinda said:
"Tap Me Happy is a virtual happy place for kids – kids put what makes them happy in the app, be it a video message from their mother saying 'I love you', a photo of their favourite toy or a recorded message from their friend saying 'you're my best friend in the whole world.'"
Tap Me Happy lets you add your 'happy' entries within 4 categories:
•Photos – of loved ones, family members, friends, special things, special events.
•Videos – of special occasions, places, of everyday moments.
•Audio –record memories, happy thoughts, ideas, or get a loved one to record a special message.
•Text – record quotes, memories, affirmations, happy thoughts, special messages.
Users can then press the Tap Me Happy button for a random happy entry to pop up.
Tap Me Happy has received worldwide interest from Psychologists, Teachers, Therapists and Parents.
Belinda said "I am thrilled with the response to date; I really hope Tap Me Happy can make a difference".
Tap Me Happy is available to download at itunes. For more information contact Belinda Ratcliffe: http://www.interactivefeelings.com.au/