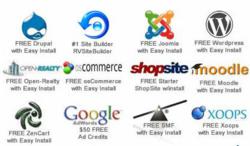 In addition the various hosting plans available, Web HSP also offers unlimited disk space and email, unlimited domains and MySQL databases and a free domain name
New York, NY (PRWEB) November 14, 2012
This week, the Web HSP reseller program, announced an innovative solution for business minded clients who demand elite web hosting. This heavily discounted reseller program provides the customer with total control of how to setup their hosting accounts, including all the different packages and pricing.
After signing up for a reseller hosting account with Web HSP, the customer receives the login information for a versatile control panel called the WebHost Manager (WHM). WHM allows the user to manage and provide their own customers with a full service control panel (cPanel), which allows them to manage e-mails, web site files, statistics, domain names, etc. Web HSP is available 24/7 to assist resellers with customer support.
In addition the various hosting plans available, Web HSP also offers unlimited disk space and email, unlimited domains and MySQL databases and a free domain name. With a convenient online store and instant set-up, Web HSP also offers a 30 day money back guarantee and virtually 100% up time.
Web HSP is also pleased to offer all customers the option of a VPS, or 'Virtual Private Server'. This is an effective method of partitioning a server so that each partition is allowed to act as a virtual dedicated server. Each VPS runs its own primary operating system and disk space and can be individually rebooted. The VPS Hosting offered at Web HSP gives customers more independence than shared hosting services at lower costs than a physical dedicated server.
Each and every VPS account at Web HSP comes with reserved RAM and equal CPU share, dual quad core Xeon servers and a user friendly management portal. With 24/7 support in North America, Web HSP delivers 2 dedicated IP addresses with nightly backup, and a free domain reseller account.
Web HSP has an experienced team that guarantees quality services and support around the clock. The management team has over 20 years of experience in the hosting industry and over 40 years of management experience in Corporate America. The support team is at Web HSP is comprised of experienced customer service representatives, systems administrators and systems engineers. The team of experts at Web HSP is invested in quality, utilizing integrated software solutions to provide customers with an easy, feature rich hosting experience.
For more information, simply visit http://webhsp.com/