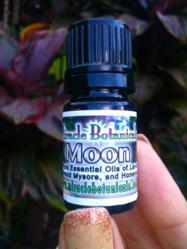 Moon will allow one to access Strong Creative Energies and may be used on Full Moon Nights for Working Some Magic!
Pahoa, HI (PRWEB) November 13, 2012
Miracle Botanicals, the Leader in Reiki Charged Pure Essential Oils, is now offering Moon Essential Oil Blend - a Divine mixture of Pure Essential Oils, created to Ignite and Instill Creative and Uplifted Energies.
        
Moon will allow one to access Strong Creative Energies and may be used on Full Moon Nights for Working Some Magic!
Moon consists of three oils in a Divinely guided ratio, which best assist one in tapping into the moons amazing and powerful energies. The base oil used is our Signature Sandalwood Mysore, which contributes by quieting the mind and allowing us to be in a meditative state, while increasing intuition and allowing one to receive and integrate healing energy.
         
The middle note of the Moon blend is a Fine French Lavender Essential Oil, which allows one to be more open to receiving abundance and beauty.
     
The top note of the Moon blend is our Sweet and Divine Honeysuckle Essential Oil, which aids in the healing process by assisting one in getting past regrets and moving forward freely in life.
 
General Information:
Botanical Name: Santalum Album
Botanical Family: Sanatalaceae
Derived From: Bark
Origin: Mysore, India
Method of Extraction: Steam Distilled
Aroma: Warm, Balsalmic, Musky, Spicy, Rich, Woody
Physical Description: Medium Consistency, Transparent, Yellow Color
Botanical Name: Lavendula Officinalis
Botanical Family: Lamiaceae
Derived From: Flowers
Origin: France
Method of Extraction: Steam Distilled
Aroma: Floral, Fresh, Sweet, Clean-Scent
Physical Description: Colorless, Light and Thin Liquid
Botanical Name: Lonicera Caprifolium
Botanical Family: Caprifoliaceae
Derived From: Honeysuckle Flowers
Origin: India
Method of Extraction: Steam Distillation
Aroma: Floral, Sweet, and Strong
Physical Description: Orange-yellow to Dark Orange-Yellow liquid with light consistency
Indications:
Emotions: Moon will also help balance the emotions, while calming and uplifting one's spirits and banishing nervous tension. The blend will raise one's vibrations and instill feelings of comfort, freedom, unity, hope, love, beauty, mental ease, concentration, and relaxation!
Skincare: Moon is antiseptic, antifungal, anti-inflammatory, and antimicrobial. The blend helps heal the skin and face from acne, wrinkles, psoriasis, dermatitis, eczema, and sunburn. Moon will help prevent any type of topical infection, while reducing the formation of scar tissue and reducing inflammation caused by such wounds.
Physical: Moon may be used topically on the chest to treat any type of respiratory illness! Moon also helps aid digestion, treats stomach pains, colic, flatulence, vomition, and diarrhea. The blend will also help improve blood circulation, lower blood pressure, and treat asthma, throat infections, sinus congestion, bronchitis, whooping cough, laryngitis, tonsillitis, flu, cough, and cold. Moon acts as an excellent pain remedy for sore muscles, backache, rheumatism, sprains, muscle tension, and joint pain!
Spiritual: Moon blend is an excellent tonic for assisting with spiritual growth, enlightenment, cleansing negative energies, and resonating with the moons powerful energies. Moon will promote a meditative state of mind, increase mind, body, and spirit health, stimulate the conscious mind, and help one be in touch with their personal psychic power!
Chakras Affected:
First Chakra: Root – Moon helps one be more grounded and connected to the Earth and connects one with a strong sense of being. The blend also instills courage, passion, and loyalty to help one move freely in life!
Second Chakra: Sacral – In the Sacral Chakra, Moon promotes Creativity and Sensuality. The blend will help connect spirituality and sexual, while enhancing one's sexual energy.
Third Chakra: Solar Plexus – Moon aids the Solar Plexus by enhancing one's inner strength and helps us be able adapt to new situations and ideas. This helps to promote one's confidence in the Divine self.
Fourth Chakra: Heart – Moon will calm and open the heart, while promoting love, compassion, and patience.
Fifth Chakra: Throat – In the throat chakra, Moon promotes a sense of trust in the Divine Plan, while promoting clear communication with others and the Divine!
Sixth Chakra: Third Eye – Moon helps to quiet mental chatter and promotes a deep, meditative state and spiritual wisdom.
Seventh Chakra: Crown – Moon stimulates the crown chakra by inviting and encouraging direct communication with the Divine and inciting higher consciousness. The blend will also instill a strong sense of Unity in one's being!
Colors:
Oil: Faint Pale Yellow
Etheric: Green, White, Silver, Gold, Blue, Yellow, Orange, Pink, and Purple
Miracle Botanicals is the leading provider of Reiki charged pure essential oils that help people align with their Divine identity and return to their natural state of optimal health, abundance and well being. For more information, please visit http://www.miraclebotanicals.com.
The founder of Miracle Botanicals, Rev. Hope Johnson is devoted to being a clear channel for Divine inspiration and instruction. She is passionate about being a facilitator to expanding Consciousness here on the earth plane through her work and play. Her recorded spiritual insights can be found here: http://www.thewaytotheway.com