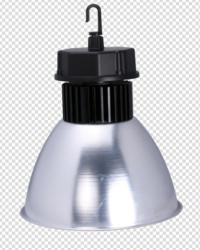 (PRWEB) November 30, 2012
The Chinese leading LED manufacturer – Zhongtian Lighting launches an energy efficient lamp for large area lighting – 200W LED high bay which provides high brightness and superior light quality. The light source of 200W LED high bay is Bridgelux high brightness LEDs. The 200W high bay is composed of many LED emitters and its appearance is similar to traditional high bay lighting, but it has higher efficacy. The 200W high bay can reach 27000lm. Besides, the 200W high bay light has the advantages of energy efficiency, long life time and easy installation which can replace mercury vapor lamp or HPS (high pressure sodium). Meanwhile, it can help customers to save the maintenance costs and the power consumption.
Zhongtian Lighting has made the [ZT-HB-1-200W] led baylight fully compliant with all relevant environmental certifications, in order to protect the environment and customers. The product does not contain hazardous chemicals, such as mercury. Unlike competing products, it does not emit harmful UV or IR radiation, making it far more eco-friendly than traditional lighting fixtures and other lighting technologies. Carrying a 3-year full performance warranty, its reliability and instant-on ability together with its superior color rendition compared to HID fittings mean greater safety for workers. Its low operating temperature also reduces Health & Safety risks due to burns and fire. It is widely used to illuminate warehouses, retail floors, manufacturing facilities, gymnasiums, data centers, and a variety of other commercial and industrial spaces.
Zhontian Lighting Bay Light Series includes models that use up to 60% less energy than traditional metal halide and fluorescent fixtures while delivering similar or greater light output. These combined factors lead to a drastically lower total cost of ownership, savings, reduced maintenance costs, and a superior quality of light when compared to a standard fluorescent or HID lighting system. Its low profile light weight design allows for increased mounting versatility and ease of installation. In addition, its bay fixtures reduce loads on cooling systems by emitting negligible heat and require virtually no maintenance.
Zhongtian Lighting is engaged to providing energy-efficient and affordable solution, so that cater to today's lighting needs. For more information, please visit http://whttp://www.ztlights.com.