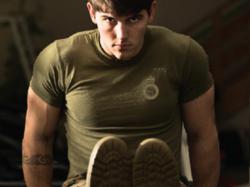 Vancouver, BC (PRWEB) November 14, 2012
(Financial Press) - Darren Berezowski calls it the "Aha!" moment. It is the moment when potential customers first get to touch and feel the revolutionary new fabric that Berezowski believes could be a game-changer in the global textile industry. The fabric goes by the proprietary name of Kotinu®.
Kotinu® is one of a range of performance-related, man-made textiles developed by Garmatex Technologies, Inc., a Vancouver-based manufacturer and supplier of scientifically engineered fabric technologies.
The difference with Kotinu®, says Berezowski, the Los Angeles-based President of Garmatex, is that it can literally take the place of natural cotton across a broad range of products from T-shirts to jeans, from socks to work shirts, from women's tights to sheets and hospital gowns, from tablecloths to military garb.
His pitch is that Kotinu® is not just as comfortable as cotton, but it is also a vast improvement over the conventional fabric. It is more versatile, more hygienic and more durable. It also dries faster than any other known man-made fiber in its category.
Berezowski is currently leading a major expansion of the North American operations of Garmatex to bring the company's new generation of fabric technologies and performance-related apparel designs to the attention of potential clients.
In a news release, Keith Gracey, Garmatex CEO and Chairman, stated: "Our expansion in North America enhances our capacity to develop and commercialize our products tailored to the specific needs of our clients, as well as our strategic partners' needs, while focusing on the branding of Garmatex through other established and emerging brands."
Target customers include leading edge brands within all categories including sports apparel, fashion design, hotel chains, hospitals, police and fire departments and defense procurement agencies.
The global market for technologically advanced fabrics has grown exponentially along with an explosion in consumer demand for performance-related apparel as the distinction between athletic and street wear becomes increasingly blurred. Global Industry Analysts, Inc. says the trend within the $376 billion annual designer apparel market is spurred by "dramatic lifestyle changes, increasing sports participation particularly by women and demand for stylish, functional and versatile apparel." Add in institutional users, such as hospitals and the hospitality industry, and you have a textile industry worth a total of $1.3 trillion a year.
While man-made microfibers have made huge inroads into the textile industry in the past 30 years, natural cotton still accounts for more than 65 percent of all fabrics used in apparel. The reason for that is simple, says Berezowski, "It's a question of comfort. Focus group studies have shown that consumers think microfiber fabrics are uncomfortable."
Finding a way to overcome those objections through technological innovation was at the root of the Garmatex strategy. "Therein lay the opportunity," states Berezowski, "Kotinu® is second to none in terms of comfort, feel and performance."
Seven years ago, Hank Wang, the company's Chief Operating Officer, began a painstaking series of scientific experiments that led finally to the perfection of the Kotinu® formula.
"It was an intense process which took several years of mixing and matching hundreds of microfiber filaments, experimenting with various knitting techniques, analyzing color fasting and antibacterial processes," says Berezowski. The result, he says, is a fabric that independent third-party tests have shown to be superior.
Among its chief attributes, Berezowski notes:
· A conventional cotton sheet can take 45 minutes to an hour to dry. Kotinu® can be washed in warm water and machine-dried in under 10 minutes, dramatically reducing power consumption and thus contributing to the reduction of carbon footprint.
· The strength of its filament thread means Kotinu® can last six times longer than conventional cotton. And, unlike cotton, the Kotinu® thread allows dyes to adhere to its fiber at a higher concentration. Even after several years of washing, the fabric will not fade or break down.
· A proprietary antimicrobial agent used in Kotinu® enables superior odor and bacterial and fungal control and fiber degradation resistance. Hospital sheets made from Kotinu® could not only enhance patient comfort, but also play a key role in reducing hospital-acquired infections and lesions.
Berezowski acknowledges that when he speaks of the superior attributes of the Kotinu® product to potential clients, there is a tendency for his listeners to roll their eyes in doubt. "Then I hand them a Kotinu® shirt and they say, 'I love this. This is fantastic. I can't believe it is not cotton.' It's like they have had an epiphany."
Richard Evans, of RwE Growth Partners Inc., an adviser to Garmatex Technologies, points out that, in independent testing, Garmatex fabrics have "outperformed the top six major brands in performance enhanced fabrics." He shares Berezowski's conviction that Garmatex has the potential to become "a brand name as ubiquitous as Kleenex, Xerox or FedEx," brands he says "have transcended iconic status and become synonymous with an entire industry".
Berezowski himself fights the temptation to say Garmatex could become to the textile industry what the Intel chip is to computing. But he truly believes Kotinu® has the ability to change the industry. "When you see it, and feel it, you do have that 'Aha!' moment," he says. "It's very profound."
For more information on Garmatex Technologies:
Contact Information:
Garmatex Technologies, Inc.
http://www.garmatex.com
Media Relations:
Garmatex Technologies, Inc.
Canada: 604.575.0366
USA: 714.519.3445
media(at)garmatex(dot)com
Legal Disclaimer/Disclosure: A fee has been paid for the production and distribution of this Report. This document is not and should not be construed as an offer to sell or the solicitation of an offer to purchase or subscribe for any investment. No information in this article should be construed as individualized investment advice. A licensed financial advisor should be consulted prior to making any investment decision. Financial Press makes no guarantee, representation or warranty and accepts no responsibility or liability as to its accuracy or completeness. Expressions of opinion are those of the author's only and are subject to change without notice. Financial Press assumes no warranty, liability or guarantee for the current relevance, correctness or completeness of any information provided within this article and will not be held liable for the consequence of reliance upon any opinion or statement contained herein or any omission. Furthermore, we assume no liability for any direct or indirect loss or damage or, in particular, for lost profit, which you may incur as a result of the use and existence of the information, provided within this article.