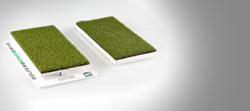 Golfers Power Drive instantly re-enforces stability, which is a key to component to a consistent golf swing whether you're an amateur or a professional, Ken Duke
Boston, MA (PRWEB) November 14, 2012
GOLFER'S POWER DRIVE is excited to partner with PGA Tour Golfer, Ken Duke to build awareness of the importance for golfers to use their stronger lower body muscles properly in their golf swing, said John Miller, president, of Power Drive Performance. "Ken is a great person who works very hard at maintaining his game through a complete training regimen", Miller added.
At the age of 14 Ken was diagnosed with Scoliosis, a curvature of the spine which required an operation. Still today, Ken has a 16" metal rod in his back to correct the 72% curve in his spine. Ken said, "A lot of golfers have less severe but still painful back issues than myself". When ask if the Golfers Power Drive helps him, he said "absolutely, the Golfers Power Drive trains you to keep your back foot stable, so you can make a full turn into your backswing instead of 'swaying' backwards which can put a lot strain on your lower back." Can the Golfers Power Drive help PGA Tour players? "No question. It is all about fundamentals and consistency on the PGA Tour. The courses have gotten so long, at times players over-swing which causes you to lose balance. The Golfers Power Drive instantly re-enforces stability, which is a key to component to a consistent golf swing whether you're an amateur or a professional." Ken added.
The GOLFER'S POWER DRIVE teaches golfers to get their lower body initiated into the golf swing with a stabilized back leg and foot. Once you have learned to stabilize the lower body on the backswing, the power drive can then be used to work on the downswing. When done properly, the GOLFER'S POWER DRIVE standing plate produces an audible "CLICK" on the lower front side plate. This auditory sound and kinetic feel provides a multisensory teaching aid that trains the golfer's muscle memory and increases their skills. This is done with a golfer's natural stance and swing just like they play on the golf course.
"Having Ken demonstrate how he uses the Golfers Power Drive is a great example for amateur golfers and will help them visualize how important it is to use the lower body and hips properly", Miller said. The auditory click feedback produced by the Golfers Power Drive tells the golfer their swing is correct in which Ken demonstrates.
All Power Drive Performance product owners have access to a web base training site which is updated often with new drills from professional trainers and coaches. Power Drive Performance products include the Pitchers Power Drive, Softball Power Drive and Hitters Power Drive. Miller said "the Golfers Power Drive owners training site is in the process of being launched". Ken and other professional players and instructors will be on video training site. The training will include Golfers Power Drive instruction in ultra slow motion at 1,000 frames per second, Miller added.
The GOLFER'S POWER DRIVE comes with a turf power drive device used by the back foot as well as a front foot platform to make sure that the golfer's feet remain on the same plane while using the training aid. There is also an optional addition, the GOLFER'S POWER DRIVE 5x5 Hitting Mat which offers a cut out for the Golfers Power Drive. This allows the GPD top drive plate to sit flush with the mats surface thus eliminating the front foot pad. Both the pad and mat provide a life like surface for golfer's to take their practice swings from.
The GOLFERS POWER DRIVE is a training aid that allows a natural swing with nothing attached to a golfer's body. The Professional Model is designed to help golfers achieve maximum power and velocity from using their stronger lower body muscles. The auditory click provides instant feedback to let the player know the timing of their power drive. This multisensory learning created by the auditory click and kinetic feel has provided great success with the PITCHERS POWER DRIVE for professional, collegiate and youth baseball players. It is already being used over 1,000 high schools and baseball academies, 300 collegiate programs, 20 professional teams and many pro pitchers. For more information about Golfers Power Drive, Pitchers Power Drive, Hitters Power Drive and Softball Power Drive visit http://www.powerdriveperformance.com you can also follow Golfers Power Drive at http://www.facebook.com/GolfersPowerDrive?ref=hl and at https://twitter.com/GPD20