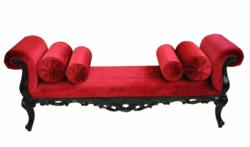 Home owners who are bored with the look of normal beds will find this bench bed refreshing as it offers a completely different style and design
Carrollton, Texas (PRWEB) November 16, 2012
The Interior Gallery continues to raise the level on quality and comfort as the company recently added new luxury beds and modern bench beds to their bedroom furniture collection. The company is known for bringing high quality and stylish products that are unique but elegant to consumers.
The recent addition included the Andromeda modern king size bed which comes in different colors and finishing. Home owners will be taken aback by the soft, supple feel of Italian fabric that is pulled gently against the solid hand carved wooden frame. The intricate and clever workmanship speaks volumes as it enhances the entire appearance of the wooden bed frame which uses solid birch wood.
The Andromeda bedroom set will bring a level of sophisticated elegance accompanied by other modern bedroom furniture décor. Customers who enjoy the striking hand applied silver leaf finishing could also consider checking out the other types of color and finishing that is available while stocks last.
The Interior Gallery also added the Doriane modern bench bed to its luxury bed collection. The beautiful upholstered velvet bed bench comes complete with two large roll pillows and two small roll pillows. It is made completely from solid birch wood and will be ideal for any bedroom. The frames of the bed are hand carved with intricate precision offering the highest detail. Home owners who are bored with the look of normal beds will find this bench bed refreshing as it offers a completely different style and design.
Other bedroom products that are offered by The Interior Gallery which will complement these luxury beds would be the company's range of luxury wall mirrors. Consumers who are looking for home décor and furnishings for the house will be impressed with the affordable range of home furniture products offered by the company.
The Interior Gallery being a factory direct business offers consumers high quality products that were custom designed by manufacturers for them. These products are made and delivered to the company's main distribution center which is located in Carrollton, Texas before being shipped directly to customers.
Customers who would like to get a better look at the entire range of physical products including these luxury beds could visit the company's newly opened $3 million showroom in Allen, Texas. Friendly staff are available to assist during working hours (9.00am – 6.00pm) from Monday to Friday and 10.00am – 6.00pm on Saturdays. The showroom is close on Sundays.
For more information and to browse the products offered, please visit the company website at http://www.TheInteriorGallery.com Customer service is available on toll free 866-205-6867 and to place orders by phone, just call 214-614-8176.