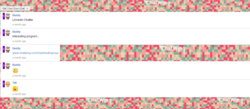 San Francisco, CA (PRWEB) November 14, 2012
To be ahead of the competition a website should generate a fair share of traffic in the World Wide Web. The more eyeballs a site attracts, the more gains it is to the owner. Website owners and admins, who are usually into marketing and business, are in for a tough competition since more sites are being created every day. More efforts should be given in developing one's site and keeping it interactive than passive. Successful websites had installed a free chat widget to encourage interaction and participation from online visitors.
Chatwing, one of the highest ranking web chat application online, offers more options to its users when it comes to global connectivity, customization level and social network expansion. The dynamic and free chatbox allows web surfers a wide array of control and flexibility when it comes to real-time communication with other users. Website managers can instantly connect to a thousand users or can begin private chats with selected site visitors. Chatwing's pop-up window and regular shoutbox options can accommodate thousands while the vanity URL is intended for group chats. Web admins can gain full control over discussions to maintain harmony during chat activities. Chatwing has conversation control feature that allows admins and moderators to ban nuisance users, filter out profane words and delete messages that can harm the site's professional image.
Focus shouldn't be centered on the site itself, it is important that site's contents are shared in the social networking platforms to reach more online users. The social media integration option of Chatwing free chat box makes it easy for web owners to share interesting chat exchanges to Facebook and Twitter. On the other hand, social media users can easily participate in discussions by logging in with their accounts.
Website owner won't have a hard time fitting in the free shoutbox into their sites since Chatwing team has created a very flexible chat tool. Users can change almost every aspect of the chat widget and can alter it in a more advanced ways by using the CSS customization option.
About Chatwing.com
Chatwing.com specializes in the new field of website chat. Over years, the Chatwing team has introduced live chat widget for hundreds and thousands of blogs. The Chatwing application bridges people from many parts of the world, creating global synergy through the Internet. The shout box can be installed in just seconds, and it can be used for varying purposes such as leisure and Internet marketing. It also allows a user to customize the size, color, and name of the widget. Chatwing is 100% free for everyone.