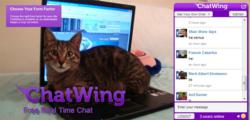 Boston, MA (PRWEB) November 14, 2012
For three years Chatwing dev team has never stopped enhancing their free chat widget to provide quality chatting experience to its users worldwide. Chatwing created a simple yet dynamic global chatbox. The simple mechanism makes it easy to use and install. Chatwing shoutbox is adaptable to any websites or blogs. It also offers full conversation control to web admins and moderators.
Chatwing free shoutbox is continuously rising above its competitors because of its high level of flexibility in aiding real-time communication. Many online communities have recognized its effectiveness in improving online visibility and presence. The ease of access and convenience that Chatwing web chat tool offers can never be compared with other chat tools in the Web. After a few seconds of installation, users can immediately communicate with hundred of web surfers online. Chatwing users also have the option to engage and initiate group chat through the vanity URL feature.
Chatwing's improved free chat box can easily be customized and there are a lot of ways to do it. The web chat application allows CSS customization and image upload. The font colors of the message, username and links can be altered. The widget's border design can be modified as well.
Web admins will definitely find Chatwing chatbox suitable to their need to simplify web monitoring and management. If they are monitoring multiple sites, Chatwing has an option where admins can add moderators to the free chatbox. There are also conversation control features making it easy to ban users, filter out profane words and delete offensive messages.
Chatwing team has also designed its chat application to be socially compatible. The free chat box has social media integration features that make it more accessible to Facebook and Twitter users.
About Chatwing.com
Chatwing.com specializes in the new field of website chat. Over years, the Chatwing team has introduced live chat widget for hundreds and thousands of blogs. The Chatwing application bridges people from many parts of the world, creating global synergy through the Internet. The shout box can be installed in just seconds, and it can be used for varying purposes such as leisure and Internet marketing. It also allows a user to customize the size, color, and name of the widget. Chatwing is 100% free for everyone.