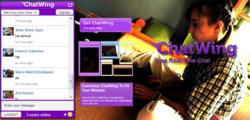 Cambridge, MA (PRWEB) November 15, 2012
Many people are now looking for financial advice, whether it is for personal or business ends. This is based on the global research done by the Chatwing Development Team—a company that specializes in making simple but competitive chatroom applications. Recently, the Chatwing team has launched a free chat widget that can help people gather more financial advice. Once the Chatwing app is installed to a website, visitors can now partake in interesting discussions far and wide.
Pieces of financial advice are like simple guides that can appear in different places all over the Internet. The Chatwing Team has observed that these pieces of advice can reach thousands of people with the help of websites and chatrooms. Chatwing's free chat box, in that case, plays a major role in spreading information. Once installed in a financial website, visitors can now ask questions and website owners can share their thoughts and useful ideas.
The latest version of the Chatwing chatbox also focuses on user accessibility. The developers have added full admin controls, so that users can create a widget that can fit the theme of their websites well. Word filter parameters are added, and users can add filters by typing profane words. Automatically, these words will be monitored and filtered by the Chatwing chatroom.
To ensure that more users can utilize the booming potential of the Chatwing free chat widget, the Chatwing Team plans to expand in other notable online sectors. Aside from strategic expansion, Chatwing developers will add more upgrades to the chat platform. These upgrades will ensure that technical glitches are avoided in every chatroom.
About Chatwing.com
Chatwing.com specializes in the new field of website chat. Over years, the Chatwing team has introduced live chat widget for hundreds and thousands of blogs. The Chatwing application bridges people from many parts of the world, creating global synergy through the Internet. The shout box can be installed in just seconds, and it can be used for varying purposes such as leisure and Internet marketing. It also allows a user to customize the size, color, and name of the widget. Chatwing is 100% free for everyone.