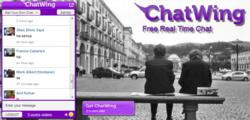 San Antonio, TX (PRWEB) November 15, 2012
Couples can start engaging in lively conversations with the help of the Chatwing chat widget. The Chatwing chatroom application can be installed to any website or blog and it is loaded with useful features that can take online chat to a new level. The Chatwing app can also accomplish many online purposes because of its versatility in global communication.
Chatwing's free chat box takes only few seconds to install. The user must first register his website domain to the Chatwing website. After getting an official Chatwing account, the user can now access his dashboard. There, he can modify the overall appearance of the widget. Colors and sizes can be tweaked, along with several admin parameters. Chatwing's developers have added new colors so that combinations will become infinite.
Upon chatting, visitors can log in with their social media accounts. With this option, people can now expand their social networks easily. Now, couples can get to know each other better. Currently, Chatwing app allows Facebook and Twitter login. There is also a Guest option wherein the visitors can choose to remain anonymous. Chatwing's developers are also planning to add more login options to the chatbox in the coming months.
Online dating website owners have already started using the Chatwing free chat widget. Many website owners have confirmed that their websites had a significant increase in online visibility. Visitors were also able to reach their online goals easily. The Chatwing team is also diligent enough to keep the Chatwing platform free from any glitches.
About Chatwing.com
Chatwing.com specializes in the new field of website chat. Over years, the Chatwing team has introduced live chat widget for hundreds and thousands of blogs. The Chatwing application bridges people from many parts of the world, creating global synergy through the Internet. The shout box can be installed in just seconds, and it can be used for varying purposes such as leisure and Internet marketing. It also allows a user to customize the size, color, and name of the widget. Chatwing is 100% free for everyone.