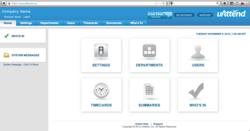 uAttend 2.0 is the dawn of a new era in time and attendance....we are paving the way to make the convenience and cost-efficacy of web-based time tracking software accessible to every business in the US
Carlsbad, California (PRWEB) November 15, 2012
ProcessingPoint, Inc., an industry leader in employee time clock solutions, has released uAttend 2.0. This new software version delivers cutting-edge cloud computing features, in addition to a new Web interface that greatly enhances the user experience. Through continuous implementation of software enhancements, the uAttend System will better serve its ever-expanding global client base.
Providing comprehensive solutions that are affordable, reliable, simple to install, and easy to use is the foundation of the uAttend suite of products and services. These core attributes, combined with state-of-the-art software and a world-class support team, have made uAttend a key competitor in the timekeeping software industry.
"uAttend 2.0 is the dawn of a new era in time and attendance," said Andrew Newby, COO of ProcessingPoint, Inc., makers of the uAttend™ Employee Management System. "Our initial offering quickly was recognized as the de facto standard in web-based time and attendance for small business. With our transition to uAttend 2.0 we are paving the way to make the convenience and cost-efficacy of web-based time tracking software accessible to every business in the US."
The latest version of the uAttend Employee Management System not only boasts an enhanced user interface, but it has also been developed on a robust back-end in order to accommodate future enhancements.
"The release of uAttend 2.0 sets the stage for future augmentations and advancements, many of which will be introduced in 2013," said Scott Berry, Vice President of Engineering at ProcessingPoint, Inc. "We've built a progressive platform with 2.0 that gives us tremendous flexibility for platform development and customization of options for our customer base."
uAttend includes a growing line of advanced devices such as proximity reading timeclocks, biometric fingerprint time clocks, and facial recognition timeclocks, making it one of the most diverse employee time management systems available today.
If you would like more information about a uAttend time clock system, or would like to order products and services, please call 800-518-8925 or visit the corporate website at http://www.uattend.com . uAttend is located at 2796 Loker Ave., Suite 111, Carlsbad, CA 92010.