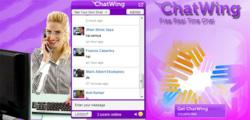 Chicago, IL (PRWEB) November 16, 2012
People are now becoming more and more conscious about their homes. This fact is based on the spending habits of people when it comes to home care alone. Others are also visiting home care websites to find tips and other helpful information. Seeing the opportunity to help, the Chatwing Development Team has introduced its latest chat widget to home care communities. The recent Chatwing app was tweaked to deliver optimum communication and user accessibility.
Home care tips are now appearing up all over the Internet with the help of websites, blogs, chatrooms, and communities. Chatwing's free chat box can be used as a 'steamroll' to spread information further. Since Chatwing chatroom is versatile, home care information can travel in just minutes or seconds. Repair and construction tips can now be shared by professionals easily and visitors can get them.
Chatwing's free chatbox can also be used as an online visibility tool. The Chatwing chatroom can improve the visibility of a website by turning it into a chatting lounge. Thousands of users can visit the Chatwing chatroom and engage in lively discussions. With such traffic, the website can gain peaks of online presence for as high as 70%. Chatwing's developers have also stated that the percentage varies—web content and interaction must also be considered.
Chatwing's free chat widget is now moving up for the better. Its developers are now looking forward to more developments. These upgrades will make the Chatwing platform time-efficient, quicker, and more stable. The purpose of these developments is to keep up with the dynamic changes in the online arena.
About Chatwing.com
Chatwing.com specializes in the new field of website chat. Over years, the Chatwing team has introduced live chat widget for hundreds and thousands of blogs. The Chatwing application bridges people from many parts of the world, creating global synergy through the Internet. The shout box can be installed in just seconds, and it can be used for varying purposes such as leisure and Internet marketing. It also allows a user to customize the size, color, and name of the widget. Chatwing is 100% free for everyone.