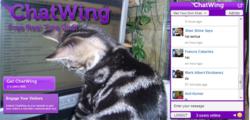 New York, NY (PRWEB) November 16, 2012
Pets are now dominating a large portion of the Internet. All over the Internet, thousands of websites, blogs, and forums are now dedicated to the existence of pets and pet care. The Chatwing Development Team has decided to introduce a free chat widget to pet lovers in the Pinterest community. Chatwing's latest chat app is designed to help people communicate with each other in many ways possible. Social media leverage is also empowered by Chatwing's premier chat tool.
Chatwing's free chat box can help Pinterest pet lovers find more pet care tips. Using the Chatwing shoutbox is easy. First, the visitor must log in with his Facebook or Twitter account. An alternate method is the Guest login option. With this feature, the user can select a chatroom avatar. Chatwing's selection of avatars have usual pop culture references such as batman, joker, James Cameron's Avatar and even The Godfather. A Chatwing chatroom can accommodate thousands of chatters all the time, enhancing the chance of social connection.
Chatwing's free chat widget can also be used by Pinterest pet lovers who are maintaining websites. Once installed, the Chatwing shoutbox can generate traffic in a daily basis. According to early users of the Chatwing chat app, their websites had significant visibility boosts. These boosts occurred within days and weeks of frequent Chatwing app usage. Many users were also enticed of Chatwing app's wide range of customization features.
The Chatwing Development Team is also open for feedbacks and suggestions from all of its users. Lately, Chatwing's developers have reached out to many Pinterest users in order to gather their opinions. These opinions can help the Chatwing Team with implementing new and helpful features. With such feature upgrades, the Chatwing chatbox can help more users across the World Wide Web.
About Chatwing.com
Chatwing.com specializes in the new field of website chat. Over years, the Chatwing team has introduced live chat widget for hundreds and thousands of blogs. The Chatwing application bridges people from many parts of the world, creating global synergy through the Internet. The shout box can be installed in just seconds, and it can be used for varying purposes such as leisure and Internet marketing. It also allows a user to customize the size, color, and name of the widget. Chatwing is 100% free for everyone.