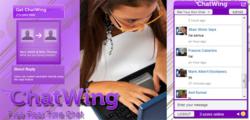 Boston, MA (PRWEB) November 16, 2012
Gardening is one of the most common topics in Pinterest today, as observed by Chatwing's core developers. This observation has been proven useful because the company has launched a new chat widget that can be used by gardening afficionados in Pinterest community. The Chatwing chatroom can be installed to any website or blog, and can be used as a quick and easy online visibility tool. Most importantly, the Chatwing tool can be used for online connectivity.
Pinterest users can now find more gardening tips with the help of Chatwing's free chat box. With this chat tool, Pinterest users can also connect to gardening groups and communities. The Chatwing app allows social media integration—visitors can now log in with their social networking accounts. With such feature, Pinterest gardening afficionados can find more friends in Facebook and Twitter. Chatwing's developers will add more login options in the coming months.
Chatwing's free chatbox can also be used to improve the online presence of a website. By installing the Chatwing chatroom, the website owner can now communicate with large groups of people at any point of time. Once visitors are enticed, they will keep coming back to the website, raising its visibility. The latest version of the Chatwing shoutbox also focuses on more customization options and overall accessibility.
The Chatwing Team has also introduced the free chat widget to other prominent online communities. Chatwing developers have also tweaked the chatroom's overall speed to deal with the incoming influx of users.
About Chatwing.com
Chatwing.com specializes in the new field of website chat. Over years, the Chatwing team has introduced live chat widget for hundreds and thousands of blogs. The Chatwing application bridges people from many parts of the world, creating global synergy through the Internet. The shout box can be installed in just seconds, and it can be used for varying purposes such as leisure and Internet marketing. It also allows a user to customize the size, color, and name of the widget. Chatwing is 100% free for everyone.