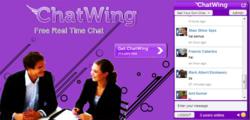 Seattle, WA (PRWEB) November 17, 2012
Young entrepreneurs are now flocking the Twitter community because of its sheer importance in the field of marketing and lead generation. According to many professionals, a single tweet can reach hundreds of followers as long as it is creative enough. The Chatwing Development Team has decided to help young Twitter entrepreneurs by introducing a website chat widget that can handle the concerns of clients. In the latest Chatwing tool version, users can enjoy varied customization options, as well as different admin privileges.
The Chatwing tool appears in the form of a simple chatroom. It has a default purple theme, but its users can select any color possible. Global connectivity is one of the main reasons why installing the Chatwing chatbox is necessary for any website. Twitter's young entrepreneurs can install the Chatwing shoutbox in their websites so that they can have a 'customer service' tool. Now, visitors can post their questions and feedbacks directly.
Chatwing's free chat widget also grants high rate of accessibility for all of its users. The admin can delete messages in single clicks and they can also ban visitors, complete with a ban message. The admin can set these parameters in the Chatwing dashboard and the platform will take care of everything. The Chatwing team has also added a MP3 option wherein users can upload a single song link to make the chatroom enticing.
According to Chatwing's developers, more upgrades are currently being planned. With these upgrades, the free chatbox can handle more users in the long run, and the platform can also become more efficient than ever.
About Chatwing.com
Chatwing.com specializes in the new field of website chat. Over years, the Chatwing team has introduced live chat widget for hundreds and thousands of blogs. The Chatwing application bridges people from many parts of the world, creating global synergy through the Internet. The shout box can be installed in just seconds, and it can be used for varying purposes such as leisure and Internet marketing. It also allows a user to customize the size, color, and name of the widget. Chatwing is 100% free for everyone.