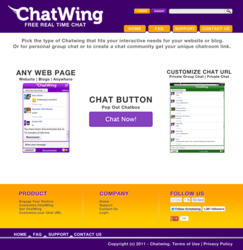 Portland, OR (PRWEB) November 18, 2012
The Internet has helped many people achieve their goals. In the case of online employers, their tasks have become easier with the help of websites, forums, and online communities. Chatwing, a company that develops multi-functional chatrooms, has launched the latest version of its chat tool. The recent Chatwing chat widget version focuses on user customization, flexibility, and improved online communication.
Online employers can use the free chatbox by installing it in their websites. The installation process doesn't take much time and effort; first, domain registration is required. After that, the user can now proceed to the Chatwing dashboard. From there, he can start modifying the widget according to his preferences. There are lots of color combinations to choose from, and they can be edited separately. Moreover, the user can upload a background image and a single MP3 song link to make the chatroom enticing.
Chatwing's free chat widget also offers the important factor of website visibility. By turning a portion of the website into an active chatting lounge, visitors can gather and share their thoughts and ideas. Online employers can post links in the chatroom and they can use it as a stepping stone in finding subordinates. They can also share important tips about online job hunting, interview etiquette, and proper attitude in the workforce.
With the innovation brought by Chatwing's free chat box, many web users were able to experience a new form of online chat. The Chatwing team will always look out to these web users and they are willing to pan out more developments in weeks or months.
About Chatwing.com
Chatwing.com specializes in the new field of website chat. Over years, the Chatwing team has introduced live chat widget for hundreds and thousands of blogs. The Chatwing application bridges people from many parts of the world, creating global synergy through the Internet. The shout box can be installed in just seconds, and it can be used for varying purposes such as leisure and Internet marketing. It also allows a user to customize the size, color, and name of the widget. Chatwing is 100% free for everyone.