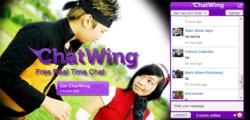 (PRWEB) November 18, 2012
Anime cosplay communities are now growing because of the widespread relay of information through websites, forums, and blogging communities. A beginning cosplayer can find thousands of costume designing tips, and even the latest 'otaku' websites that can be discovered. Realizing the potential of this niche, the Chatwing Team has introduced a website chat widget that excels in information delivery. Apart from that, the Chatwing app can be installed to a website to improve its online presence.
Sharing information in the Chatwing chatbox is easy. Visitors just need to log in with their Facebook or Twitter accounts. Alternatively, they can use the Guest option if they want to remain anonymous. With the Guest option, the user can select from Chatwing's collection of avatar displays. After logging in, the visitor can now share or gather information. Anime cosplayers can now find tips from other visitors. Experts, on the other hand, can share tips about costume design and related costs.
Chatwing's free chat box has been first introduced in blogging communities, like Wordpress. From these communities, Chatwing has moved up in other online sectors and niches. According to Chatwing's developers, communication is highly needed to remain competitive. This applies well in the case of entrepreneurs who want to penetrate the online arena.
Apart from new customization options and admin flexibility, the Chatwing Team is looking forward to push more upgrades that are related to platform speed. These upgrades will ensure that more users can engage in informational and entertaining conversations. Updates about the free chat widget will always be posted in Chatwing's official Facebook page.
About Chatwing.com
Chatwing.com specializes in the new field of website chat. Over years, the Chatwing team has introduced live chat widget for hundreds and thousands of blogs. The Chatwing application bridges people from many parts of the world, creating global synergy through the Internet. The shout box can be installed in just seconds, and it can be used for varying purposes such as leisure and Internet marketing. It also allows a user to customize the size, color, and name of the widget. Chatwing is 100% free for everyone.