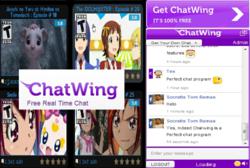 Cambridge, MA (PRWEB) November 19, 2012
The Chatwing Development Team has recently introduced a reliable chat widget for Anime forums and forum makers. In this new version, Chatwing's developers have focused on advanced customization options and social media advantage. Apart from that, the developers have also included flexible admin options. Anime forum makers can use the latest Chatwing chatroom to generate traffic and maintain continuous online presence.
Chatwing's free chat box now allows a background image upload option. In an Anime-inspired website, uploading an Anime picture seems to be a good choice because it can start discussions from hundreds of visitors. Also, border colors can be mixed and match to achieve the right theme. With the Chatwing chatroom, visitors of Anime forums can share their thoughts and ideas about the latest Anime shows. Tips for cosplayers can also circulate, as well as notable prices for collectible hunters.
Up to date, the limitations of the Chatwing free chat widget have been extended. Now, Chatwing admins can delete messages in just few clicks and they can even ban members—complete with a simple ban message that states the reason why they are banned. Setting up word filters is also a possible option to keep the Chatwing chatroom profanity-free.
The Chatwing chatbox will undergo more changes in the coming months, according to the company's developers. Currently, the developers are working on a playlist option that allows admins to set up their own detailed MP3 playlist where visitors can listen freely. Platform speed upgrades are also being pondered as of the moment.
About Chatwing.com
Chatwing.com specializes in the new field of website chat. Over years, the Chatwing team has introduced live chat widget for hundreds and thousands of blogs. The Chatwing application bridges people from many parts of the world, creating global synergy through the Internet. The shout box can be installed in just seconds, and it can be used for varying purposes such as leisure and Internet marketing. It also allows a user to customize the size, color, and name of the widget. Chatwing is 100% free for everyone.