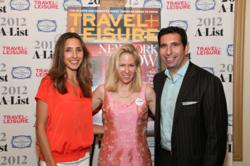 The internet has way too much information. It is confusing and people don't know what to believe. We lead clients to the best places & experiences possible
Bangkok (PRWEB) November 16, 2012
Remote Lands, the New York and Bangkok-based ultra-luxe private Asia tour operator, is proud to announce CEO & co-founder Catherine Heald has been named as one of the world's top travel advisors of 2012 by Travel + Leisure magazine. The highly acclaimed international travel publication highlights the newest trends and best services in the travel industry. Out of well over 100,000 travel advisors operating in the US, only 156 were named. Remote lands was noted for its singular authority on the Southeast Asian region.
"It is a great honor to be included on this very prestigious list published by one of the top travel magazines in the world. This is an adulation for Remote Lands, not me personally, as we are thrilled to be listed alongside the foremost names in the travel business, such Valerie Wilson, Priscilla Alexander and Michael Holtz," says Ms. Heald.
In an age where information is readily available to anyone, travel advisors are playing an increasingly important role. "The internet has way too much information. It is confusing and people don't know what to believe. We lead clients to the best places & experiences possible," notes Catherine.
Travel + Leisure added Catherine to the A-list this year as a leading specialist on Southeast Asia, an area where expert advice makes a world of difference. Catherine's vast knowledge helps Remote Lands produce highly personalized itineraries as well give clients unique insider experiences. She prefers traveling to remote destinations in Southeast Asia such as Borneo, Komodo Island and Eastern Shan State in Myanmar.
About Remote Lands, Inc.
Remote Lands, Inc. creates highly personalized, ultra-luxe holidays in Asia, optionally by private jet or yacht. Based in New York and Bangkok, they specialize in extraordinary experiences that are difficult to arrange and require privileged access to important people and exclusive events, drawing upon their relationships with remarkable people around Asia. They distinguish themselves with their white-glove service, creative itineraries and extreme attention to detail.
Remote Lands has been featured in The New York Times, The Wall Street Journal, Departures, Travel + Leisure, Condé Nast Traveler, Town & Country, the BBC, Fox Business News, Financial Times, National Geographic Traveler, W, Newsweek, Forbes, BusinessWeek and more.
Remote Lands' destinations include: Bhutan, Cambodia, China, India, Indonesia, Japan, Laos, Malaysia, the Maldives, Mongolia, Myanmar (Burma), Nepal, North Korea, Papua New Guinea, the Philippines, Singapore, South Korea, Sri Lanka, Thailand and Vietnam.