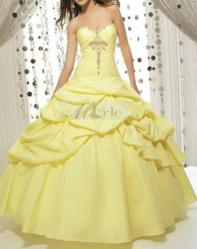 (PRWEB) November 14, 2012
Recently, Merle Dress, has released its Black Friday shopping tips, and announced proudly that it is ready for its Wedding Dresses Black Friday Deals 2012, the biggest shopping event of the year. Merle Dress is offering a variety of wedding dresses at up to 59% off of the retail price.
Merle Dress Black Friday Deals 2012 is one of the most reliable online sales events where one can find the latest wedding dresses to purchase.
"Merle Dress will help to buy wedding dresses within a limited budget. Not only do we have the best wedding dresses on the market today; we also have a fast delivery service. Our wedding dresses will be delivered in a few days after payment. " Said, Donnie Terry, CEO of Merle Dress.
Jolin, a customer from London, said, "I have been waiting for this day for a long time already! I used to order my evening gowns for myself from Merle Dress, and I was satisfied with the quality, though their price was about 40% lower than others'. I will come back at the Black Friday with my friends. Thank you really!"
"The online market is the most important market for our company. In order to reassure customers, we have a money-back guarantee, which provides customers a risk-free way of trying out any of our amazing dresses. We hope customers can enjoy our products and services as before." Stated, Donnie Terry.
About Merle Dress
Merle Dress is a leading online shop of wedding dresses, prom dresses, special-occasion dresses, and wedding dress accessories. Merle wedding dresses started with a basic idea of helping women dress better and is now famous for its outstanding quality in fabric, materials, and fit without the inconvenience.
For information, visitors can find Merle on Google+, or visit its website at http://www.merledress.com/