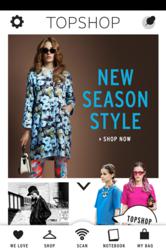 The story of how Red Ant worked with Topshop to achieve such a universally successful outcome is one worth telling.
London (PRWEB UK) 15 November 2012
In Red Ant's blog post 'In-store digital integration and the rise of consumer power', they focused on the fact that they're at the dawn of a new era for digital commerce – one where the barriers between commercial channels are being eroded and, thanks to mobile commerce, broken down in a growing number of cases.
Intelligent retailers are at the forefront of this move to multichannel – Topshop is one of the most significant, and its pioneering attitude to mobile commerce has driven its business agenda ahead of its competitors.
A brand to be reckoned with
Part of the Arcadia Group, Topshop is a brand to be reckoned with on the UK's (and, increasingly, the world's) high streets. It's the no.1 UK retailer on Facebook, it has a reputation for engaging and delighting its customers both on- and offline, and has collaborated with Britain's hottest new design talent for 10 years.
So when Topshop partnered with Red Ant to develop Topshop for iPhone, it brought with it a considerable weight of expectations, not only from a digital commerce angle but also from its customers' point of view. Success depended on close collaboration between the in-house team at Topshop and Red Ant's mobile experts to deliver a market leading iPhone app to engage the user user in-store, online and on their mobile.
An award-winning collaboration – the retailer's story
While the results speak for themselves – Topshop was recently presented with Retail Systems' Mobile Retailer of the Year award, and it has been shortlisted for a number of other industry accolades – the story of how Red Ant worked with them to achieve such a universally successful outcome is one worth telling. In our extended case study which you can download now, Topshop's Head of Ecommerce reveals the thought process, technical development and business strategy behind the partnership with Red Ant and the project itself. It's an unprecedented behind-the-scenes view of mobile commerce from a retailer's perspective, and its insights are invaluable.
If you want to find out more about how Red Ant can work with you to deliver award-winning digital commerce solutions which maximise business results, contact us.