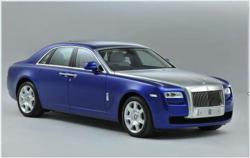 (PRWEB UK) 14 November 2012
If 2012 turns out to be a good year for ones business, they'll want to know that Rolls Royce has made some worthwhile improvements to the Rolls Royce Ghost for the 2013 model year.
The update is hard to spot from the outside, but the cabin gets upgraded leather and wood veneers that provide a great environment in which to enjoy the uprated sound system. That includes a better amplifier and extra "exciter" speakers which are set into the leather headlining and have the effect of raising the system's "centre of sound", moving it closer to passengers' ears.
One new convenience is Comfort Access. That allows the Ghost's boot-lid to be opened with a wave of a foot provided the key is present and with a certain range – although business buyers whose budget won't stretch to the Ghost can find the same feature in more affordable cars such as the Volkswagen CC.
There's a new forged alloy wheel choice, and Rolls says that there are 44,000 exterior paint options.
The Ghost has a P11D value of £198,000 and will cost a 40 per cent taxpayer £2,310 per month in company car taxes.
Business Car Manager has a variety of useful guides including business car finance, company car news and detailed reviews including Peugeot reviews among others.
For more information, visit Business car Manager at http://www.businesscarmanager.co.uk/.